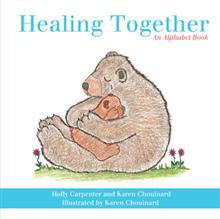 Denver, CO (PRWEB) October 16, 2012
When Karen Chouinard's husband died, she sought out bookstores for resources on grief.
Although numerous options were available for adults, choices were limited for children coping with death.
Seeing a need, this mother-daughter team set out to create a book to help others discuss their grief together.
Healing Together: An Alphabet Book brings together those suffering from the loss of a loved one, and is written from the perspective of the adult and the child.
"The most challenging part of writing this book was re-living experiences about Dad's death that we had tucked away for years," said Holly Carpenter, Chouinard's daughter. "However, collaborating on the book also recalled wonderful memories of him."
The authors' thoughts, reflections and lessons stem from their collective experiences over a span of many years, from the earliest stages of mourning to the present.
"Interaction with other people is one of the key elements to heal from grief," said Chouinard.
"People cannot recover alone. We all need support."
Healing Together: An Alphabet Book
By Holly Carpenter and Karen Chouinard
ISBN: 978-1-4497-3442-8
Approx. 53 pages
Dimensions 8 ½"x 8 ½"
Paperback: $20.95
E-book: $3.99
Available at Amazon, Barnes & Noble, WestBow Press
About the authors
Holly Carpenter has a degree in communications from Northwestern College in St. Paul, Minnesota. She recently completed her degree in education and teaches sixth grade. Holly lives with her husband in Colorado. Karen Chouinard retired after thirty-five years in education. She has remarried and lives with her husband in Colorado.
EDITORS: For review copies or interview requests, contact:
Liesl Kasdorf
Phone: 317-602-7137
Email: lkasdorf (at) bohlsengroup (dot) com
(When requesting a review copy, please provide a street address.)