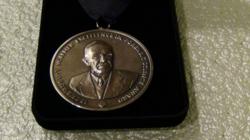 The examples of the BPD and PNP and their outstanding use of IBIS TRAX-3D is an excellent example of how technology can help police link firearm crimes and identify suspects.
San Diego, California (PRWEB) October 12, 2012
One of the most prestigious awards presented to forensic experts has been awarded to two separate ballistics labs as a direct result of their exceptional use of IBIS® TRAX-3D™.
Presented yearly at the International Association of Chiefs of Police (IACP) conference, the August Vollmer Award for Excellence in Forensic Science is awarded in five categories.
Last week, the Boston Police Department won for demonstrating Innovation in Forensic Technology, and the Philippine National Police took home the Significant Investigative Value in a Major Crime award.
Accepted by Captain Dowd of the Boston Police Department, the Innovation in Forensic Technology award recognized his agency for its participation in the use and evaluation of IBIS® BULLETTRAX-3D™. The evaluation proved that IBIS technology enhanced the ability of the BPD Ballistic Unit to connect two crimes that were previously thought to be unrelated. Moreover, IBIS proved to be an invaluable part of the department's crime-solving ability by providing investigators with leads they would not have otherwise had. The never-before-used 3D bullet imaging and comparison functionalities let the BPD link 35 crimes, many of which were homicides and aggravated assaults.
The Significant Investigative Value in a Major Crime award was accepted by Superintendent Sabong and Director Sarmiento for the Philippine National Police's work on the "3K killings". From 2005 to 2008,
38 people were murdered across 10 cities and 7 provinces. From the hundreds of pieces of ballistic evidence, investigators were able to recognize the repeated use of a particular weapon in the killings. This "alpha gun", as it came to be known, eluded police for years. In 2011, once the PNP implemented new protocols and acquired an IBIS TRAX-3D system, investigators soon realized that, by linking evidence and firearms, the weapons used in the 3K killings were responsible for 91, not 36 murders.
IBIS TRAX-3D is the latest generation of IBIS technology which provides law enforcement agencies with tremendous crime solving value. Through increased automation and new 3D imaging (with the ability to take accurate measurements at the nanometer level and capture more crucial data for better correlation accuracy), IBIS TRAX-3D has become the world standard in automated ballistic identification.
"The BPD and PNP and their outstanding use of IBIS TRAX-3D are an excellent examples of how technology can help police link firearm crimes and identify suspects," said Robert Walsh, President of Forensic Technology WAI Inc. "Seeing customers win the August Vollmer Award for work in which IBIS played an integral role is validating, but the real reward is getting violent criminals off the street."
About Forensic Technology
Forensic Technology pioneered automated ballistic identification more than 20 years ago and continues to be a leader in ballistic and firearm identification technologies that promote a safer society. We partner with hundreds of public safety agencies in nearly 70 countries and territories, providing cost-effective and sustainable solutions.