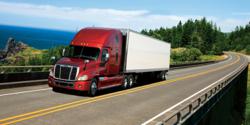 We wanted to better educate businesses with logistics concerns on the opportunities available to them through leasing a fleet of trucks rather than purchasing them
Winnipeg, Manitoba (PRWEB) October 15, 2012
Logistics can be a difficult aspect of any business that distributes products; with increasing fuel prices, costs associated with shipping are increasing all the time. However, for those companies who require their own truck fleets, TranSolutions of Winnipeg has created a resource entitled "Leasing a Semi Truck" that may change their bottom lines.
"We wanted to better educate businesses with logistics concerns on the opportunities available to them through leasing a fleet of trucks rather than purchasing them," said Grant Bradshaw, General Manager of TranSolutions. "It's not just about lower up-front costs, it's about a truck equipment solution that is more economical in the long term, and also means the equipment is better maintained."
The service TranSolutions is looking to educate on is Full Maintenance Leasing, in which a company leases a truck through the company and leaves all maintenance (scheduled and unexpected,) to TranSolutions. The end result is a much more economical solution that allows the client company to focus on their core business, with TranSolutions providing the expertise in terms of truck maintenance.
In addition to the benefits available from leasing a truck specifically, TranSolutions brings the benefit of specializing in Freightliner trucks. With popular vehicles such as the Cascadia and Coronado, these tractor trailers are increasingly being recognized as favourites amongst truck drivers and truck fleet managers/owners alike due to their affordable maintenance costs and special features to maximize towing power and fuel economy.
TranSolutions is aiming to educate logistics responsibiles through their new online guide, Leasing a Semi Truck, complete with all the information one making a decision would need. For additional information and any questions outside of what is covered by the Leasing a Semi Truck guide, inquiries can be directed to TranSolutions; TranSolutions is the premier provider of truck leasing services in Canada.