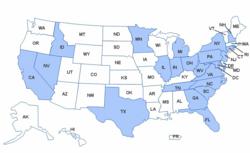 New England Compound Center chose to apparently violate the licensing requirements under which they were allowed to operate
(PRWEB) October 12, 2012
The Center for Disease Control (CDC) has confirmed the death toll from contaminated steroid injections continues to rise. So far, there have been 14 confirmed deaths and 170 confirmed cases of fungal meningitis spanning 11 states.
According to the CDC, the outbreak is tied to methylprednisolone acetate steroid injections made by New England Compounding Center. After contaminants were discovered in an unopened vial during an inspection at the Framingham, Mass., facility, three lots of single-dose vials of the steroid that were sent to 76 facilities in 23 U.S. states -- in total 17,676 vials -- were recalled. Up to 13,000 people may have received the injections, health officials said.
Meningitis is an inflammation of the membranes (meninges) surrounding the brain and spinal cord, usually due to the spread of an infection. Fungal meningitis is not contagious unlike other forms of the disease, health officials note. The earlier people get treated, the more likely they are to have better outcomes, officials said.
Symptoms of meningitis include headache, fever, nausea and stiffness of the neck, people with fungal meningitis may also experience confusion, dizziness and discomfort from bright lights. According to the CDC, patients might just have one or two of these symptoms.
A Massachusetts official said that it appears the company violated state law governing how compounding pharmacies are supposed to work. They are not supposed to do large-scale production like a drug manufacturer, but to produce medication for patient-specific prescriptions, said Dr. Madeleine Biondolillo of the Massachusetts Department of Public Health.
"This organization chose to apparently violate the licensing requirements under which they were allowed to operate," she told reporters.
Those who had an epidural steroid injection since May 21 should contact their doctor as soon as possible if they are experiencing the previously mentioned symptoms.
In addition, if you or a loved one has contracted fungal meningitis, please feel free to contact McSweeney / Langevin at 1-800-888-4425. One of our attorneys will explain your legal rights.