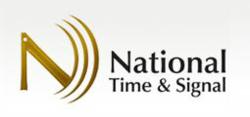 Wixom, MI (PRWEB) October 12, 2012
With a new, more appealing layout that provides Internet users with simple navigation, National Time & Signal's new website offers thorough information about the company's product lines and services.
The new website, http://www.natsco.net/, provides answers to questions about product lines, services and industries served. It also shares success stories and the long history of how National Time & Signal came to be. All this information can be found by exploring the website's numerous dropdown menus that are organized into logical categories. A clean, simple design was selected for the websites visual appearance. This resulted in a clutter-free layout that is easily readable and is not distracting.
National Time & Signal has been designing and installing master clock systems, life safety systems, which include fire alarm systems, outdoor clocks and architectural clocks in America for eight decades. The company, located at 28045 Oakland Oaks Ct., Wixom, Mich. 48393, prides itself with providing quality, long-lasting products that feature low life cycle and maintenance costs, top notch technology and remote diagnostic capabilities. National Time & Signal provides their services to K-12 schools, universities, commercial and retail buildings as well as hospitals and other health care facilities.
National Time & Signal began as a successor of Hahl Pneumatic Clock System, a company from the 1870's. The three generations that have controlled the company since have seen clock technologies grow from pendulums and pull cord fire alarm bells to Cesium atoms and fiber optic networks. This lengthy history makes National Time & Signal the most experienced manufacturers of their product lines in America.
The new website design was created by Market Pipeline. Market Pipeline is based in Portage, Mich. and provides web design and development, web marketing and search engine optimization. The company is made up of a team of programmers, designers and copywriters.