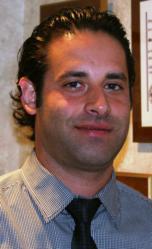 Brooklyn, NY (PRWEB) October 12, 2012
Dr. Navid Baradarian of Marine Park Periodontics & Implantology now uses the Teeth-in-a-Day® procedure using All-on-4™ technology to complete dental treatment in one appointment. He knows that many patients find dentures that don't fit well to be uncomfortable and even embarrassing. He also realizes that these patients don't want to go through multiple appointments over a period of months to get implant supported dentures or other implants. Unlike other procedures, such as traditional implant surgery that can take months to complete, this process only takes one office visit after the initial consultation.
With Teeth-in-a-Day® a patient can go home with non-removable teeth that are permanent after a single appointment. Traditional incisions for the implants and the sutures that usually accompany them are not needed with the All-on-4™ technology. The patient is provided with four implants as well as the complete set of replacement teeth all in one dental visit.
The Teeth-in-a-Day® procedure is frequently used to restore the full arch for either upper or lower teeth. It works with a full lower or upper denture and holds it permanently in place. This means that there is no longer a problem with the denture slipping or fitting poorly. The patient can eat normally and speak naturally without worrying about the denture slipping or clicking.
People who have considered implant supported dentures may also want to consider Teeth-in-a-Day® as an alternative to traditional dentures. Not everyone is a candidate for this dental procedure, so it is important to schedule a consultation to determine eligibility. To learn more about this procedure, visit http://www.marineparkperio.com.
Marine Park Periodontics and Implantology is a periodontal practice offering patients personalized dental care for Brooklyn, NY. Dr. Navid Baradarian became a Doctor of Dental Surgery at State University of New York at Buffalo School of Dental Medicine; he earned a Certificate with honors in Productivity and Patient Care from New York University Advanced Education in General Dentistry - New York, NY, and received extensive training in implant dentistry; he achieved his Specialty Certificate in Periodontics at University of Medicine and Dentistry of New Jersey. Dr. Baradarian is part of one percent of dental professionals providing the most recent FDA cleared laser procedure for gum disease and periodontal treatment. To learn more about Marine Park Periodontics and Implantology and their dental services visit their website at http://www.marineparkperio.com and call (347) 586-5997.