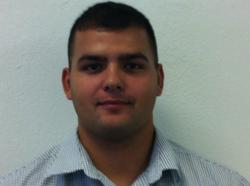 Since Donald and his family are proud residents of Driftwood, our customers in southern Travis and Hays counties will get the highest level of customer service which is a very high priority
Austin, TX (PRWEB) October 12, 2012
American Water Conditioning, a locally owned and operated independent authorized Kinetico water treatment dealer is proud to announce the hiring Donald Weitzman as their new Territory Manager for Hays County, Texas. Mr. Weitzman comes to American Water Conditioning after having served 7 years. While in the military Mr. Weitzman completed 3 tours of duty in Iraq and obtained the rank of Staff Sergeant.
"Since Donald and his family are proud residents of Driftwood, our customers in southern Travis and Hays counties will get the highest level of customer service which is a very high priority," Jay Baker, Vice President of Operations and Sales for American Water said. "We're also proud of Donald's service to our country and glad he chose American Water and Kinetico as his new career choice. He is our second veteran to do so. Donald has received extensive training on the Kinetico product line as well as the local area water and product application," Baker went on.
American Water Conditioning is an independent authorized Kinetico dealer based in Round Rock. American Water Conditions has been serving central Texas since 1987, and specializes in Kinetico non-electric water softeners and reverse osmosis drinking systems. They offer water softening systems for both residential homes as well as more complex and larger systems for commercial applications. More information about Kinetico products and free in-home water testing can be found at http://www.kineticotx.com.