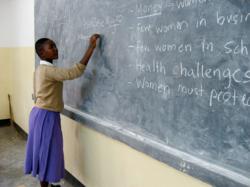 "Our AfricAid trip is the ultimate insider's safari."
Denver, Colorado (PRWEB) October 16, 2012
Africa Adventure Consultants (AAC) will lead its 2013 Tanzania AfricAid Safari June 16 – 26, says Kent Redding, AAC president and co-founder. The 11-day African safari – with an optional three-day flying safari into the Serengeti – provides a rare level of access to authentic Tanzania education and culture, including an opportunity for firsthand contribution through AfricAid, a nonprofit dedicated to supporting girls' education in Africa. The safari combines five days of behind-the-scenes cultural experiences with an up-close wildlife viewing adventure.
"Our AfricAid trip is the ultimate insider's safari," says Redding, who also serves on the Board of Directors for the nonprofit. "Guests have an exclusive opportunity to experience the real, hidden Tanzania and make deep connections with these remarkable people while furthering the transformation of the young women and their communities that is at the heart of the AfricAid mission."
Travelers will spend time at AfricAid schools, participate in school activities, and visit students' homes. Following the five days spent working with the AfricAid schools, travelers will depart for Tarangire National Park for two days viewing of animals such as elephants, buffalo, zebras and lions. The next morning, travelers will continue to Lake Manyara National Park famous for tree-climbing lions as well as thousands of flamingos that inhabit the lake shore. The last day of the safari includes a trip to Ngorongoro Crater, the world's largest unbroken, un-flooded volcanic caldera and a wildlife haven to more than 20,000 large mammals, including leopards, wildebeest and rare black rhino.
The land-only price for the Tanzania AfricAid safari is $5,522 per person, double occupancy – plus an additional $2,500 donation made directly to AfricAid. That tax-deductible $2,500 AfricAid donation goes to support one student for two years of scholarships and mentoring as part of the KISA Program. The travel price includes all accommodations at tented camp, lodges, and mobile camp; airfare is not included. A 10-percent discount is offered for travel confirmed by December 31, 2012.
An optional three-day flying safari to the Serengeti is offered for an additional $2,114 per person based on minimum of two guests sharing. The extension includes three days wildlife viewing in the Serengeti's renowned ecosystem, home to millions of animals including lions, cheetah, leopards, buffalo, elephants, zebras, impalas, hyenas, wildebeest, hippos and crocodiles.
AfricAid is a nonprofit organization that supports girls' education in Africa in order to provide young women with the opportunity to transform their own lives and the futures of their communities. For more information, visit http://africaid.com.
Company Information: Africa Adventure Consultants is a leading safari company specializing in crafting custom itineraries to 13 countries in Africa, from classic photo safaris and adventure trekking to luxury honeymoons and family holidays. The staff at Africa Adventures Consultants has lived, worked, and traveled throughout Africa, giving them an insider's perspective on how to create the best safaris in the continent's top destinations. AAC offers personalized tour planning to Botswana, Egypt, Ethiopia, Kenya, Malawi, Mozambique, Namibia, Rwanda, South Africa, Tanzania, Uganda, Zimbabwe and Zambia. In addition to creating customized private journeys, AAC offers more than 20 group trips, including gorilla safaris in Uganda and Rwanda, Kilimanjaro climbs and migration safaris. For additional information, visit http://www.adventuresinafrica.com.
Media Contact: Darla Worden, WordenGroup Public Relations, darla(at)wordenpr(dot)com, 303.777.0635