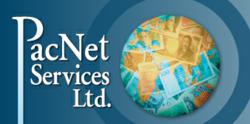 We offer cutting edge solutions for loan advances and repayments in key markets
Vancouver, BC (PRWEB) October 11, 2012
PacNet Services, a Vancouver-based company that offers inbound and outbound payment processing services to companies around the globe, has confirmed that it will attend the Consumer Credit Trade Association Conference and Gala Dinner, November 8, 2012 in Nottingham. The CCTA Conference will focus on the regulatory changes facing the industry, addressing the key issues and supporting business growth through best practice.
PacNet's presence will give attendees of the conference an opportunity to consult with a payment expert with a wealth of experience in the payday loans industry. A representative will be on hand, ready to meet with online lenders and discuss both domestic and international payment solutions.
For close to a decade, PacNet has been providing back end payment processing solutions to payday loan companies in the UK and abroad. They are well positioned to offer assistance to those payday loan companies who have recently been affected by shifting attitudes within the banking world. "We offer cutting edge solutions for loan advances and repayments in key markets. Since we do not depend on one bank, but are integrated with hundreds of financial institutions around the world, we can assure our clients of continuity of service." notes Paul Davis, General Counsel for PacNet Services. "Our turnkey services are secure, compliant and time tested."
CCTA is one of the longest serving credit trade associations in the UK with unrivalled experience and a common sense approach to success. The goal of the CCTA is to be THE credible, valued and trusted representative of consumer finance organisations and businesses. The mission of CCTA is to represent the interests of all our members to both UK and European government regulators. For over 120 years CCTA has helped to shape the credit industry, working with policy makers and regulators at the centre of government, ensuring that the voice of members is heard and understood on a wide landscape of industry issues.
About PacNet Services:
Vancouver based PacNet Services is an international payment processing company that offers a diverse range of both traditional and electronic inbound and outbound payment services for companies around the world. Some of the payment facilities offered by PacNet include credit card processing in multiple currencies, direct debit, EFT, ACH, cheque processing and bank transfer collection. PacNet also issues payouts by check and EFT for refunds, rebates, commissions and royalties both in major and developing markets.