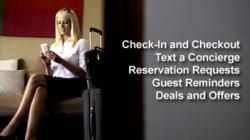 Deliver better guest experiences and increase revenue with Mosio.
San Francisco, CA (PRWEB) October 16, 2012
69% of mobile phone users will not leave the house without their cell phones and 75% of mobile consumers utilize the text messaging function. The ubiquity of text messaging makes it the perfect channel for hotels and resorts to communicate with more guests before, during and after their stay, at a significant cost-savings over mobile app development and management.
Mosio, a leading customer service and engagement mobile technology provider, now enables hotels and resorts to deliver better guest experiences and increase revenue using mobile technologies.
Mosio's interactive, mobile software utilizes two-way text messaging, alerts and satisfaction surveys to deliver three core benefits to hotels:

Increase revenue through marketing, promotions and reservation reminders for spas and restaurants.
Enhance guest experiences with Text a Concierge and quicker access to hotel staff.
Improve operational efficiencies with room ready alerts and automated check-in/check-out services.
With a variety of service modules, Mosio has the flexibility to work with hotels designing a custom solution based on the individual needs of each property. The modules give management a variety of options to create a mobile tool best suited for their concept, staff and guests on the move.
"By nature, hotel guests are busy and on-the-go, but enjoy quick access to their 'home away from home'," said Noel Chandler, Mosio's CEO. "The quick, real-time functionality of text messaging makes it the perfect mobile channel for hotels and resorts to provide their guests with an efficient communication method they already use with friends, family and business associates," Chandler added.
Mosio's solution is web-based, accessible by hotel staff from any internet connected computer or device. It is currently available in 16 countries, including the U.S., Canada, UK and Australia and can often be implemented for a hotel/resort in just a few days. For a free consultation and quote visit http://www.mosio.com
About Mosio
Mosio is an award winning mobile software company providing text messaging and mobile web solutions for a variety of businesses and organizations. Mosio's technology is used in hospitality, events and tradeshows, customer service, healthcare, education, libraries, as well as workforce communications, enabling our clients to communicate with their target audience efficiently via mobile messaging. http://www.mosio.com