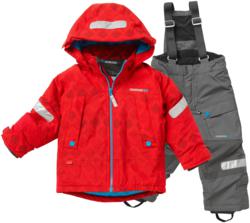 The Didrikson's jackets and wellies parents are buying for their little ones really will last the course.
(PRWEB) October 18, 2012
Popular children's outdoor clothing and accessories outfitter Wellies and Worms are leading the way with the new autumn/winter range from design leaders Didriksons.
Scandinavian firm Didriksons, which has been a market leader for nearly a century, have a popular and easy to understand categorising system for rainwear and winter clothing. This includes Storm System (waterproof), Breeze System (windproof), Thermal System (insulating) and Move System (moisture absorbing) - making it simple for parents and guardians to choose the most appropriate jacket or rainwear/snow clothing for toddler and junior ages.
Designers at the company have been gearing up for a wet and cold UK winter as their new Didricksons autumn/winter range clearly shows. But then the company has plenty of experience in that field. It originally began in Sweden in 1913 designing for fishermen in the small market town Grundsund who fished daily on the storm-lashed Atlantic ocean. The quality of the garments has allowed Didriksons to grow over the years where it now has bases in more than nine countries, including the UK.
"I think the phenomenal growth of this company, which was original started up by husband and wife team Julius and Hannah Didrikson, really does speak for itself," said Wellies and Worms owner Graham Cox.
"We're proud to be stocking Didriksons garments – coats, jackets, wellies and other accessories – because of the firm's quality and reputation. It's a name that many parents and guardians look out for because they know it's trustworthy and that the jackets or wellies they're buying for their little ones really will last the course."
Didrikson's rain and winter jackets are particularly popular with parents and kids alike. Most have two layers, including an adjustable hood and chin guard. They're also reflective so ensure a toddler's safety when walking to playschool on dark winter mornings.
Their funky lace-up Splashman kids wellington boots – which come in a range of bright, fun colours - are all 100 per cent natural rubber on the outside with a polyester tricot lining. Crucially they don't just look good but are also both water and wind proof.
Juniors love the huggable warmth of the Didriksons Ventura Jacket. This padded 100 per cent nylon weave and ergonomically-cut jacket even has trendy thumb holes added. It comes in Ruby and Hyacinth for girls and the more masculine Blaze Blue and Black for their male counterparts.
Customers can order early and see the new Didriksons autumn/winter kids collection for themselves at http://www.welliesandworms.co.uk