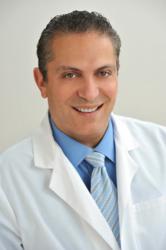 A scratch or scrape to the cornea can cause a corneal abrasion which, if not treated properly, may become infected and lead to a corneal ulcer or corneal scarring and even blindness.
Old Bridge, NJ (PRWEB) October 15, 2012
"More than 2.5 million eye injuries occur every year and more than half of them happen at home," said Dr. Ilan Cohen, a corneal specialist and pioneer in LASIK eye surgery, cataract surgery and other refractive surgeries. "Failure to adequately protect your eyes from accidental injuries at home can subject your corneas to serious damage and interfere with your vision. Home Eye Care Month is a great opportunity for us to teach people how to care for their eyes and what to do if something happens."
Ilan Cohen MD, director of 5th Avenue Eye Center in Old Bridge, New Jersey, serves patients throughout New York and New Jersey with his state-of-the-art LASIK and cataract surgery methods. Dr. Cohen is devoted to educating people about protecting their eyes from injury during Home Eye Care Month, with a particular spotlight on the cornea, his primary field of expertise.
"The cornea is the outermost transparent tissue that covers the front of the eye. Along with the white part of the eye (the sclera), it acts as a barrier to dirt, germs and foreign objects that can harm the eye. When light enters our eyes, it is bent, or refracted, by the shape of the cornea, and this determines how well we are able to focus on near and far objects. Corneas are vital for good vision, so it's crucial to protect them," Dr. Cohen explains.
"Corneas also shield other parts of the eye, such as the iris and the pupil, from damage. A scratch or scrape to the cornea can cause a corneal abrasion which, if not treated properly, may become infected and lead to a corneal ulcer or corneal scarring," continues Dr, Cohen. "Corneal scarring is one of the conditions that may disqualify a person from enjoying the benefits of New Jersey LASIK surgery but, even worse, can lead to blindness."
When working in the kitchen, in the yard or in the garage, it can only take a split second for an eye injury to occur and cause permanent vision damage. The American Academy of Ophthalmology and Prevent Blindness America offer the following recommendations for preventing eye injuries at home:

Wear safety glasses with side protection or dust goggles to protect against flying particles when mowing the lawn, clipping hedges and applying fertilizer and pesticides to plants. If plants in the yard are in the way, trim away any branches located at eye level. Make sure others in the yard are wearing eye protection as bystanders can be hit by flying debris.
Be careful when using household cleaning products, particularly drain openers and oven cleaners. Many cleaning products contain strong acids, alkalis, or other chemicals. They can burn the eyes or lead to blindness if not used correctly. Never mix cleaning products and always use them in well-ventilated areas.
Wear safety goggles at all times when doing automotive work, such as changing the oil, jump-starting a dead battery, or even when using bungee cords to secure items to the roof of a car.
Wear safety goggles at all times when using hand or power tools or when welding. Particles moving at high speed, such as chips from hammering metal on metal, may become embedded in the surface of the cornea. Rarely, they may pass through the cornea and go deeper into the eye.
When putting on makeup, be careful not to scratch the eye with a mascara wand. Eye infections can result if the scratches go untreated. These infections can lead to ulcers on the cornea or even blindness.
Be careful when playing with pets. Cats, dogs, and other animals can be unpredictable and may unintentionally scratch a cornea.
Touching your eyes after chopping foods such as onions or hot peppers can transfer irritating substances into the eye, causing pain and redness. Hot peppers are especially potent. They contain a fiery oil called capsaicin, which is the substance used in the pepper spray some people carry for protection against assault.
Safety glasses should be approved by the American National Standards Institute (ANSI) and should have the "Z-87" logo stamped on the frames. Many safety glasses or goggles will fit over your prescription glasses. Regular eyeglasses do not always provide enough protection, and may even cause more injury upon impact.
"Most people recognize that they should use safety glasses when using power tools, but they are not aware of how many eye hazards exist around the home," Dr. Cohen said. "If debris gets into the eye, don't try to remove it yourself or you may risk further damage to your cornea. Don't rub your eye or touch it with anything like tweezers or cotton swabs. Even if the injury seems minor, have your ophthalmologist examine the eye as soon as possible to protect against vision loss."
5th Avenue Eye Center is a complete cornea and refractive surgery center with locations in Manhattan, Queens, and New Jersey. Dr. Cohen, a graduate of Tufts University School of Medicine in Boston, was fellowship trained in corneal and refractive surgery at the renowned Vanderbilt University Medical Center in Nashville, Tenn. His innovative techniques and ability to correct other surgeons' mistakes has earned him international media attention on CBS, CNBC, and FOX News. Dr. Cohen teaches cataract and LASIK surgery at the American Academy of Ophthalmology and the American Society of Cataract and Refractive Surgery.
For more information or to schedule a consultation with Dr. Cohen, call 5th Avenue Eye Center at (732) 679-61000 or visit http://www.worldclasslasik.com.