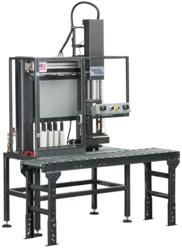 Charlotte, NC (PRWEB) October 12, 2012
Roberts PolyPro, powered by Pro Mach, will introduce an innovative semi-automatic handle applicator designed to help brand owners and contract packagers cost effectively boost production as part of a market growth strategy at Pack Expo 2012. This semi-automatic handle applicator with a single attendant has an impressive 15-to-17 cases-per-minute output. It's far easier and less taxing for operators to use than manual applicators and comes with a price tag significantly under automatic machines. (Roberts PolyPro Pack Expo 2012 Booth #3916)
"Many customers have told us they want to expand into nearby markets, but can't justify the expense of a fully automatic handle applicator at an early stage of market development," said Chris Turner, sales director, Roberts PolyPro. "We designed the new semi-automatic machine with these customers in mind and engineered in ergonomic, productivity, and quality features that will give customers a workhorse of a machine with minimized direct labor."
This new machine, with a single operator, can apply handles in two-pack configurations as well as three-, four-, six-, and eight-packs. These units are designed for maximum flexibility. Change parts allow for different bottle sizes. The semi-automatic machine can be moved from line to line to accommodate variable production schedules.
Roberts PolyPro handles and carriers support total cost and sustainability goals
Roberts PolyPro's lightweight, compact handles and multi-pack carriers support the sustainability efforts of its customers by reducing material consumption and improving cube utilization. The company's extruded handles and multi-pack carriers consume on average 5 to 35 percent less resin compared to injection molded products. Material reduction is an important contributor to improving a package's sustainability. Roberts PolyPro products are made from extruded HDPE resin and when used with either PET or HDPE bottles make the entire package — bottles and handle — 100 percent recyclable. Roberts Polypro handles are customizable, giving the packer the ability to distinguish product from the competition.
Roberts PolyPro orients multi-pack handles before shipment and in the case of single bottle handles uses a patented process of welding the handles together prior to shipment. On average, this process results in 40 percent more handles per pallet than loose handles shipped in bulk. The increase in units per pallet significantly decreases shipping costs, improves cube utilization, reduces the amount of corrugated board required, and lowers over-the-road fuel consumption and greenhouse gas emissions. There is also less damage to handles during shipment.
For more information on the new semi-automatic machine and light-weight recyclable handles, stop by the Roberts PolyPro Pack Expo Booth #3916 or contact sales at 800-269-7409. More solutions from Roberts PolyPro can be viewed at http://www.RobertsPolyPro.com.
About Roberts PolyPro
Roberts PolyPro, Powered by Pro Mach, offers innovative product packaging solutions for consumer packaged goods and pharmaceutical companies. The company is a leader in manufacturing plastic and paper bottle carriers, box handles, pour spouts, j-hooks, and a complete line of standard and custom feeder and folder/gluer machinery. Roberts Polypro is based in Charlotte, N.C. Visit Roberts PolyPro at http://www.RobertsPolyPro.com.
About Pro Mach
Pro Mach, Cincinnati, Ohio, is a leading provider of integrated packaging products and solutions for food, beverage, household goods, pharmaceutical, and other diverse consumer and industrial companies. Through three business units and related divisions, Pro Mach provides equipment, training, installation, and parts in primary packaging, end-of-line packaging, and identification and tracking. http://www.ProMachInc.com