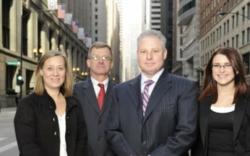 As a father of three children myself, I feel strongly about giving all children the best possible chance for a bright future
Chicago, IL (PRWEB) October 18, 2012
In addition to advocating for personal injury accident victims in the courtroom, Chicago lawyer Matthew L. Willens dedicates himself to supporting both national and local charities.
Mr. Willens of Willens Law Offices was a sponsor at the Kroeschell - Multiple Sclerosis 2nd Annual Golf Outing which took place on July 30, 2012 at Kemper Lakes Golf Course in Kildeer, Illinois. Multiple Sclerosis ("MS") is an unpredictable, often disabling disease of the central nervous system. MS affects more than 400,000 people in the U.S. and over 2.1 million worldwide. Willens said of his support, "I hope that advances in research and treatment are moving us closer to a world free of MS."
In addition, Willens is proud to have been one of the sponsors for the Trinity Freedom School Golf Benefit which took place on September 13, 2012 at Joe Louis Golf Course in Riverdale, Illinois. The Trinity Freedom School, held by Trinity United Church of Christ, is aimed at increasing the academic achievement of low-income and minority students. Of his support of the Trinity Freedom School, Willens said, "As a father of three children myself, I feel strongly about giving all children the best possible chance for a bright future."
About Willens Law Offices
Willens Law Offices is a personal injury law firm located in Chicago and dedicated to the representing injured individuals and their families. The firm prides itself on its commitment to clients, professional integrity, and sensitivity to the needs of clients going through the difficult process of recovery from injury. They help clients with car accident, medical malpractice, Workers' Compensation, wrongful death, and other types of personal injury cases.