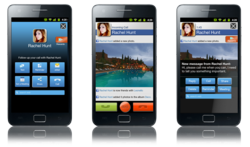 See Their Wall When They Call
New York, NY (PRWEB) October 16, 2012
Most of the phone calls we make require some follow up. In many cases we promise to send an email, in other cases we schedule a meeting with the caller and need to enter it into our calendar and in some cases we just want to go online and Google something discussed in our call.
According to Nielsen calling and texting are still the top two activities of our smart phone but very few apps address our needs in relation to these activities. The new CallFlakes app from Callsome Solutions Inc. addresses this deficiency by providing its users with exactly all those needed tools that make the next steps after a call or a text message easy and smart.
With CallFlakes, as soon as we terminate our call we receive a tool bar screen that includes 7 buttons for everything we want or need to do in relation to the call:

Send an email to the caller
Send a text message
Call back
Share something on social networks such as Twitter or Facebook
Schedule a meeting in the phone's calendar
Set a reminder
Search web
A slightly different toolbar is set to address al those things we need or want to do following a text message we receive.
CallFlakes handles well the way we follow up with our calls and it also provide us with extended information with respect to the identify of our callers. This is done by displaying a Facebook caller ID where we can see most recent updates of our Facebook friends when we call them or when they call us.
CallFlakes is a free app supported by advertising. The app can be downloaded for free on Google Play at https://play.google.com/store/apps/details?id=net.mz.callflakes
More information about CallFlakes and Callsome Solutions can be found at http://www.callflakes.com and on Facebook at: https://www.facebook.com/CallFlakes
For inquiries please contact info(at)callsome(dot)com