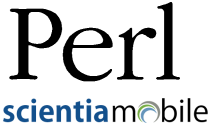 The Perl WURFL Cloud Client makes the full power of WURFL device detection available also to systems that rely on Perl
Reston, VA (PRWEB) October 17, 2012
ScientiaMobile, Inc., the leader in commercial and open source device detection solutions, has added accessibility to its WURFL Cloud service via the Perl programming language. Starting today, organizations that need to tailor their content to mobile devices can take advantage of state-of-the-art Device Detection through Perl.
"ScientiaMobile has always paid attention to the community of developers of platforms beyond Java, PHP and ASP.NET." - said Luca Passani, ScientiaMobile's CTO. "While Perl is sometimes regarded as the brat among programming languages in certain environments, I have seen large organizations and telcos run important Perl applications and even develop new applications in Perl. This is proven by the fact that the demand for Perl developers is still high. The Perl WURFL Cloud Client makes the full power of WURFL device detection available also to those systems".
"To me, the power and flexibility of Perl for certain tasks is still unmatched today. It was about time that a DDR vendor realized the importance that Perl still has today and gave Perl developers a chance to access the latest and greatest WURFL in their applications. I, for one, will point fellow Perl programmers in need of a Device Detection solution to the WURFL Cloud from now on" - said Alessandro Ranellucci, a Perl developer and a CPAN contributor.
"Perl is an old love of mine. Still today, Perl remains an essential programming tool for developers like me." - said Steve Kamerman, COO at ScientiaMobile - "Perl developers will now be able to enjoy the ease of installation, maintenance, performance, and scalability that comes with the WURFL Cloud".
The Perl Cloud Client is made available to all registered users in their Cloud Control Panel.
About WURFL
WURFL, the Wireless Universal Resource FiLe, is a popular open-source framework to solve the so-called "Device Fragmentation" problem for mobile web developers and other stakeholders in the mobile ecosystem. WURFL has been and still is the de-facto standard Device Description Repository (DDR) adopted by mobile developers.
WURFL is the Trademark of ScientiaMobile, Inc.
Open-Source WURFL is available at: http://wurfl.sourceforge.net/
About ScientiaMobile
ScientiaMobile offers commercial and open source device detection solutions to help web developers solve the problem of an increasingly fragmented array of mobile devices with different capabilities.
ScientiaMobile product offerings, licensing, support and details on upcoming products can visit, http://www.scientiamobile.com/ for more information.
The company is headquartered in Reston, VA, USA.