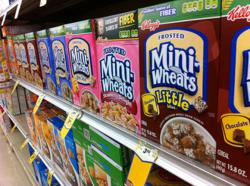 If you suspect that you have consumed contaminated food, it would be in your best interest to contact your doctor for a health assessment.
Newport Beach, CA (PRWEB) October 15, 2012
Kellogg's has issued a voluntary recall of about 2.8 million packages of Mini-Wheats due to the possibility of metal mesh fragments that may be mixed up in the cereal. According to an Oct. 12 CBS news report, the recall includes Frosted Mini-Wheats Bite Size Original and Mini-Wheats Unfrosted Bite Size products. The report states that it took several days for word of the recall to get out to consumers although news of the recall was posted on the company's web site several days prior. Kellogg's has stated that the public is not "at a high risk" as a result of this product contamination.
The report also states that this is Kellogg's second recent recall of cereal. In 2010, the company recalled Fruit Loops, Corn Pops, Apple Jacks and Honey Smacks over a strange smell and flavors, which were later attributed to packaging. So far, no injuries have been reported as a result of the metal mesh fragments in the Mini-Wheats, CBS reports.
The U.S. Centers for Disease Control and Prevention (CDC) estimates that one in six Americans will get sick as a result of food contamination each year, resulting in about 128,000 hospitalizations and 3,000 fatalities.
Food manufacturers have a responsibility to make products that are safe for consumers, said John Bisnar, founder of the Bisnar|Chase personal injury law firm. "Each year, millions of Americans are sickened by contaminated food and other illnesses that are transmitted by food. A number of these illnesses and deaths are entirely preventable when food producers are diligent about following safety standards."
Bisnar says that individuals who have been sickened or injured as a result of contaminated food would be well advised to take several steps in order to protect their rights. "The food in question must be immediately isolated, placed in a separate bag and labeled so it can be tested in a lab for contaminants. The incident should also be reported to a county health agency, which keeps record of these incidents. If you suspect that you have consumed contaminated food, it would be in your best interest to contact your doctor for a health assessment."
About Bisnar | Chase
The Newport Beach personal injury lawyers of Bisnar | Chase represent victims of auto accidents, defective products, dangerous roadways, and many other personal injuries. The firm has been featured on a number of popular media outlets including Newsweek, Fox, NBC, and ABC and is known for its passionate pursuit of results for their clients. Since 1978, Bisnar | Chase has recovered millions of dollars for victims of auto accidents, auto defects and dangerously designed and/or maintained roadways.
For more information, please call 800-561-4887 or visit http://www.bestattorney.com for a free consultation.
Sources: http://www.cbsnews.com/8301-204_162-57530536/kelloggs-recalls-mini-wheats-due-to-metal-pieces/