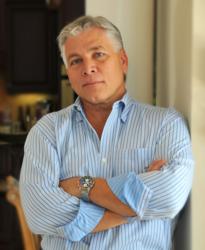 "Mazzocchi is carrying on a legacy that Michael Crichton sadly left when he departed this world, the forceful nature and gift of words to open our eyes to the possibilities that face society in an ever changing world."
- Manda at InRandom.com
Orlando, Florida (PRWEB) October 23, 2012
Entrepreneur, Rudy Mazzocchi has been in the trenches of starting over a dozen medical device and biotechnology companies since entering the field in the late 1980's. His formula is quite simple: listen to what the key opinion leaders are identifying as the 'unmet clinical needs' in the industry and provide them with the best possible solution. In order to do so, Mazzocchi is not shy about asking questions such as "why not?" and "what if?" With potential solutions in hand, he then crafts his story for investors and recruits the best management and engineering teams possible to move the new venture forward.
Mazzocchi has been granted access to elite research institutions and universities throughout the world, providing him a first peek at medical innovations that are sometimes a decade away from being commercialized. His successful efforts provided him with a reputation of being one of the go-to businessmen in the medical industry, and is now building brand recognition as an international award-winning novelist.
Over the past two decades he has collected his share of notable industry awards, including the Ernst & Young Entrepreneur of the Year Award, Businessman of the Year Award – presented by the National Congressional Committee, and National Technology Leadership Award. Since the release of his debut novel, EQUITY of EVIL, in March of 2012, he has already picked up the 2012 Global eBook Award for Best Suspense Novel and the eLit Award for Best Suspense/Thriller Novel. His first book has also been nominated for the 2012 International Thriller Writer's Award, 2012 ForeWord Book of the Year Award, 2013 Eric Hoffer Award, and 2013 Edgar's Award for the Best First Novel.
When asked about his initial success, he indicates that his creative story-telling is a result of him continuing to ask those same questions; "why not?" and "what if?". Mazzocchi's next novel is the second in a series becoming known as The EQUITY Series; due for release near the first of the New Year. This unique series may potentially be the essence of a new genre that combines both business and medical science. To intensify the suspenseful elements of his stories, Mazzocchi makes it known that his novels are based on true events.
Synopsis of EQUITY of EVIL:
A Venture Capital Fund makes a risky investment to start a challenging new business that appears capable of reaching profitabililty with modest capital requirements. The real challenge: optimizing one of the most frequently performed surgical procedure in the World -- Abortion.
Founding Partner, Roman Citrano, a successful entrepreneur turned venture capitalist, soon struggles with what he believes is his choice to establish the controversial new company. He soon realizes that he and others are but pawns on a massive, ugly chessboard being manipulated to benefit a far larger, illicit market in human organs for transplantation. Unknowingly, prime, hyper-enriched organs are spawned from the aborted fetuses and grown like hydroponic vegetables.
An unfolding world of deceit, rape, human trafficking and assassination becomes deeply personal as Roman's sole love interest secretly uses one of his new abortion services to terminate her untimely pregnancy. When she disappears, his frantic search becomes a hellish nightmare that grows worse by the hour.
Based on true events, this bold novel involves some of the world's oldest, most emotional and controversial issues. At the core of each matter is man's predisposition to control and take ownership of the human spirit for the sake of profit and person gain... such is the dark and brutal new world where life becomes the equity of evil.