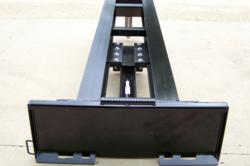 These twin beam log splitters are made in the USA and one of the largest heavy duty wood splitters on the market
Central Point, Oregon (PRWEB) October 16, 2012
WoodSplittersDirect.com continues expanding its online superstore offering with the addition of twin beam skid steer log splitters.
The twin beam log splitters are built to go on skid steer loaders such as a Bobcat or Caterpillar. These splitters are for the toughest jobs you don't even want to think about doing with a conventional log splitter.
"These twin beam log splitters come with 30 and 36 inch openings, and they are made in the USA and one of the largest heavy duty wood splitters on the market," said Michael Hirsch, log splitter expert at WoodSplittersDirect.com.
With the addition of the twin beam splitters, Wood Splitters Direct now offers a larger selection of skid steer log splitters.
Wood Splitters Direct features a selection of more than 80 log splitters, in addition to a website packed with product education, testimonials, reviews and best-seller rankings. More than just an online point of purchase, Wood Splitters Direct aims to provide customers with a place to go to learn not just what's available but what's best for their needs. The online superstore excels by employing knowledgeable sales associates, capable of providing solid consumer solutions.
Wood Splitters Direct a U.S. Direct LLC company is an online resource that provides high-quality log splitters and accessories through a direct-delivery business model. With a goal to offer the best log splitters at competitive prices, Wood Splitters Direct leverages its direct-purchasing power and manufacturer relationships to offer customers low costs and the most efficient deliveries in the marketplace.