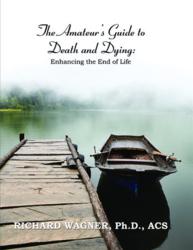 This book offers a fresh perspective on numerous issues related to dying in our modern age and encompasses end of life issues now being explored by our society.
Seattle, Washington (PRWEB) October 16, 2012
Let's face it. Death is unavoidable. None of us is getting out of here alive. Each year, tens of thousands of us receive a devastating or even a terminal prognosis. Yet, because the subject of death in our society is taboo, few opportunities exist for us to prepare for this inevitability in a purposeful life-affirming way. Instead of being encouraged to take a lead role in orchestrating our finales, we are often lost in a nightmare of fear, anxiety, and loneliness as we wait for the curtain to fall. All that is about to change.
The Amateur's Guide To Death and Dying: Enhancing the End of Life (http://www.theamateursguide.com) is a fascinating and useful new tool to help us address the questions and emotions that arise as we face our mortality. It is designed primarily for sick, elder, and dying people. However, concerned family and friends, healing and helping professionals, lawyers, clergy, teachers, students, and those grieving a death will all benefit from reading this book.
The topic of death and dying is experiencing a cultural revival not seen since the groundbreaking work of Elizabeth Kübler-Ross in the early 1970's. End of life issues are being explored in films and on TV as well as in every other media. Even the Supreme Court has addressed the issue.

Helen Hunt stars in the upcoming film, The Sessions. She plays sex therapist, Dr. Cheryl Cohen Green. Cheryl is one of the guest experts in Wagner's book. She addresses the often-neglected topic of the sex and intimacy concerns of sick, elder, and dying people.
Matthew Perry stars in the new television sitcom, Go On! He plays a sportscaster trying to move on with his life after the untimely death of his wife.
Kate Hudson starred in the 2011 film, A Little Bit of Heaven. She plays a young woman who uses humor to cope with her cancer diagnosis.
Joseph Gordon-Levitt starred in the very popular 2011 movie, 50/50. He plays a 27-year-old man who faces the real possibility of dying of cancer.
Massachusetts voters will decide the fate of a controversial assisted dying referendum in November. The Death With Dignity Act would allow physicians to prescribe a lethal dose of drugs to their terminally ill patients.
Disease-based and elder-support organizations are challenging the popular culture to reexamine end of life care.
Dying people are demanding their rights in much the same way other social and sexual minorities have done in the past.
The "boomer" generation is rapidly aging and the fastest-growing segment of the population is elders 75 years and older.
Now is the ideal time for each of us to make a change in the way we deal with our mortality. Because, if we don't, the marginal status our culture assigns to the end of life is inevitably what each of us will inherit in our dying days.
The most exceptional aspect of The Amateur's Guide to Death and Dying is its format. Readers become part of an on-the-page support group so they, in effect, don't have to face all of this alone. Ten diverse fictional characters, representing a broad spectrum of age, race, and life situations inspire strong reader identification and provide essential role models for enhancing life near death. Readers are exposed to a myriad of life situations and moral dilemmas that arise as we face our mortality head on.
In addition to the group process, six presenters, each an expert in his/her field, offer timely advice designed to help readers make the end of life less intimidating and more of a rich, poignant transition. Topics include spirituality, sexuality and intimacy, legal concerns, final stages, and assisted dying.
The Amateur's Guide to Death and Dying offers a fresh perspective on numerous issues related to dying in our modern age … whether it's filling out an advanced directive form, answering provocative questions about sexuality and intimacy, completing a death anxiety survey or personally designing a unique end-of-life plan … readers are totally involved and engaged.
The Amateur's Guide to Death and Dying opens channels of communication on important topics that would otherwise be avoided, neglected, or denied. It helps dispel the myth that we are incapable of taking charge during our final season of life.
Although there are other books available on the topic, nothing compares in scope, attitude, or style to this book. It is modeled on a program that works and is highly praised by participants, their family, and friends and professionals who attend them.
Dr. Richard Wagner, author of The Amateur's Guide To Death and Dying: Enhancing the End of Life, is available to discuss:

Why Me? The difficulty, as well as the necessity, of facing and embracing our mortality.
Breaking the Cycle! Helping transform our culture's negative attitudes towards death and dying into healthier, more life-affirming ones.
Conscious Dying! Regaining a sense of balance and purpose; making the end of life less intimidating and more of a rich, poignant transition.
Getting Organized! Practical information on the nuts and bolts of successfully living our final season of life, including how not to leave a mess for our survivors.
Don't Stop! Addressing the sexuality and intimacy concerns of sick, elder, and dying people.
Strategic Planning for the End Game! Breaking open the conversation about advanced directives and end of life care.
Let The Healing Begin! Joining your loved ones as they begin their grieving process.
About Dr. Richard WAGNER
Richard Wagner, Ph.D. is a psychotherapist/sex therapist in private practice in Seattle, WA, 1981 to present. He has over 30 years of experience working with terminally ill, chronically ill, elder, and dying people in hospital, hospice, and home settings. He facilitates support groups for care-providers as well as healing and helping professionals. He provides grief counseling for survivors both individually and in groups settings. He is the Founder of PARADIGM/Enhancing Life Near Death, a cutting edge, health related nonprofit organization.
Dr. Wagner has an extensive background in successfully working with the national and local media, in print and on radio and television. He often speaks in the public forum on policy issues related to religion, human sexuality, aging and death and dying. Dr. Wagner has also been a keynote speaker and/or presenter at numerous conventions and symposia.
The Amateur's Guide To Death and Dying: Enhancing the End of Life
Trade paper
343 pages
$19.95 srp – ISBN #9781610981996
$12.59 srp – e-book ISBN: 9781610982009
Published by Nazca Plains Corporation, Las Vegas
Available on Amazon, and in bookstores including Barnes & Noble.
http://theamateursguide.com/?p=83
High-resolution photos are available upon request
PUBLICITY CONTACTS:
Wendy Brickman (831) 633-4444 or brickman(at)brickmanmarketing(dot)com
Marci Bracco (831) 747-7455 or marcibracco(at)yahoo(dot)com