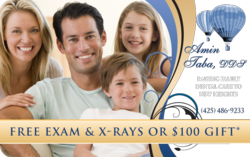 This state of the art referral system makes it easy to drive qualified new patients into your practice.
Atlanta, GA (PRWEB) October 14, 2012
Whiter Image Dental and its partner, Viva Concepts, are pleased to announce they will be attending the 2012 American Dental Association (ADA) Trade Show. The annual ADA Trade is being held at the Moscone Convention Center in San Francisco, California on October 18-21, 2012 and is one of the largest dental shows in the United States; this year alone the more than 30,000 attendees include close to 10,000 dentists and thousands of hygienists, assistants and others in dental-related careers. The ADA Show draws attendees from throughout the United States and internationally. It features many new innovative dental solutions that enhance the dentistry field, and provides educational and networking opportunities.
Whiter Image Dental, an Atlanta based leading manufacturer and supplier of state-of-the-art teeth whitening products, is dedicated to providing affordable teeth whitening products that do not promote sensitivity while providing their customers with ongoing marketing support. Whiter Image will display its revolutionary Chic Flic Pen, teeth whitening pens, in-office and in-home whitening kits, and other whitening accessories. Attendees will learn about Whiter Image's unique marketing support which assists clients in promoting Whiter Image products and effortlessly marketing whitening services. Additionally, Whiter Image will educate patrons about its partnership with the Viva Referral System. This state of the art referral system makes it easy to drive qualified new patients into your practice.
Keith Rodbell, founding partner of Whiter Image, said, "The ADA Trade Show increases our visibility and gives us the opportunity to educate dentists about our whitening products and the highly effective Viva referral system. The dental community will have the ability to meet with our marketing consultants and sales staff to learn exactly how our affordable whitening products and patient referral systems can make their dental practices more profitable. We expect our show attendance to promote our growth and expand our clients' profits."
Sales staff at the Whiter Image booth will also educate patrons about Viva Concepts, a trackable referral card system, which allows dentists to drive in referrals through their current patient-base. Whiter Image's clients can learn more about the Viva program's Guaranteed Response System and utilize their marketing strategies at the same time.
Keith Rodbell, said, "Whiter Image is committed to guiding each client's success with our products. Our own marketing staff will show clients how to use scripts, literature, social media and other tools to advance whitening sales, but we also want to give clients the opportunity to expand their referral market with the Viva Referral System. Viva cards are trackable, plastic discount cards that can be tied to a customizable dental offer of each dentist's choice. Whiter Image will train staff to distribute the cards, and track the response of the cards. Dentists can even reward staff when distribution of each staff member's card brings in business."
For more information about Whiter Image products, visit booth 2516 at the 2012 American Dental Association (ADA) tradeshow in San Francisco between October 18th and 21st or contact Whiter Image Dental at 1-877-944-8330. You can also visit us online at http://www.whiterimagedental.com or http://www.getgreatpatients.com.