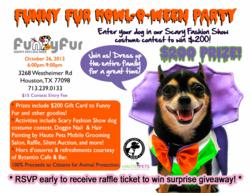 CAP is delighted to be a part of the Funny Fur Howl-o-Ween Party in River Oaks - with 100% of the proceed benefiting our homeless animals.
Houston, TX (PRWEB) October 12, 2012
Funny Fur, a leading online and Houston luxury pet boutique specializing in designer dog clothes and dog costumes, announces they are hosting their annual non-profit Howl-O-Ween Party and Scary Fashion Show.
There will be an in-store Howl-O-Ween costume contest at the Funny Fur pet boutique in Houston, as well as an online contest open to pet owners everywhere. The in-store contest will be held on October 26, 2012 at 6 p.m. and will feature a Halloween themed fashion show and pet costume contest for dogs, as well as other pet-themed activities including dog nail and hair painting by Haute Pet Mobile Grooming Salon, silent auctions, raffles and more. Hors d'oeuvres and beverages will be served throughout the event. Donations are accepted for participation in the festivities with all proceeds benefiting Citizens For Animal Protection (CAP). Local business owners and volunteers will judge the grand-prize costume contest winner. Winner will be announced at the end of the evening and awarded a $200 gift card to Funny Fur.
"CAP is delighted to be a part of the Funny Fur Howl-o-Ween Party in River Oaks - with 100% of the proceed benefiting our homeless animals. It will be a fun-filled night with shopping for the best of the best canine finery in town while enjoying the yummy refreshments, an over-the top silent auction, and a surprise prize raffle. Be sure you dress up your precious pooch for the Scary Fashion Show where you will walk the "Catwalk" for a chance to win a $200 gift certificate for your favorite Funny Fur's fabulous merchandise. While you are there, have your pet all gussied up with fancy hair painting and glamorous nails. Annie and Flower, CAP's Ambassador Dogs, will be on hand to thank you for coming. It will be the best go-to event ever!", says Trisha Royal, CAP's Community Outreach Director."
The online contest is open to all pet owners who want to show off their costumed fur babies. Customers will judge submissions and the winner will be awarded a $100 gift card to Funny Fur online store. This year's must have costumes includes the Lil' Red Riding Hood dog costume, complete with red cape and basket toy, and the Big Bard Woof dog costume, a "scary" costume for the boy dogs. All photo entries should be submitted by October 24, 2012.
More information about the Halloween Party and costume contests can be found on the company's website.
About Funny Fur
Funny Fur is a luxury pet boutique dedicated to helping pet owners find everything they fancy with convenience and ease, all in one place, for their stylish dogs. Happy dogs and their smitten pet parents dig there for fashion forward designer dog apparel and clothes, one of a kind doggy couture wear, fashionable pet carriers, designer dog accessories, collars & harnesses, eco-friendly grooming & spa care, novelty dog toys, handmade pet jewelry, organic dog treats, pet furniture, premium and all natural & holistic pet foods and treats, and other fabulous dog gifts and goodies. "At Funny Fur, you can turn your pup into a prince or princess. Everything dog, everyday™. Happy pets dig here™. And that's the way we like it." Funny Fur contributes to local animal rescues and other non-profit organizations dedicated to the wellness of animals.
About Citizens For Animal Protection
Citizens for Animal Protection (CAP), was formed in 1972 to shelter, rescue and place animals in loving homes, relieve animal suffering and provide humane education. The true success of the organization remains the focus on the individual animal. CAP is committed to saving the lives of homeless animals "one tail at a time". The organization has excelled in doing all of this in a rented building in a strip center, but in January 2011, the organization opened a new inviting facility located on the Katy Freeway at Barker-Cypress. Because of CAP's solid core of supporters, staff, and volunteers who have been with the organization from the grass roots beginning, CAP boasts a 4-star rating with Charity Navigator.