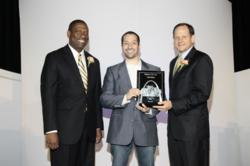 It's an exciting time to be an entrepreneur in St. Louis.
St. Louis, MO (PRWEB) October 12, 2012
LockerDome, a social media platform for sports and one of the fastest growing online sports properties in the country, announced today that it has been named one of the St. Louis 2012 Businesses of the Year. The award was presented by Mayor Francis Slay on behalf of the St. Louis Economic Development Corporation at the Business Celebration Luncheon on October 5th.
"We'd like to thank the local community for both its amazing support for LockerDome and its continued support in building a top-tier local tech scene right here in St. Louis. It's an exciting time to be a tech entrepreneur in St. Louis," remarked Gabe Lozano, co-founder and CEO of LockerDome.
LockerDome has been on a roll recently. This week the company surpassed 2 million monthly unique visitors, which it reached in just 9 months since re-launching the platform in January 2012.
LockerDome additionally announced this week that it has hand-picked 25 of the top sports agencies in the country as official launch partners, immediately bringing its platform to hundreds of high-profile professional athletes, ranging anywhere from NFL superstars Larry Fitzgerald and Troy Polamalu to the retired MLB legend Pete Rose. Sports agencies are leveraging LockerDome as a means to maximize their clients' existing social media efforts on Facebook and Twitter and to better engage their fanbase. The 25 firms were selected based on their industry reputation as well as client lists that LockerDome believes fit seamlessly within the platform today.
LockerDome is a social media platform that allows athletes, fans and other sports enthusiasts to consume content and interact within interest-specific sports networks, such as communities around their favorite pro athlete or their local club soccer team. LockerDome works directly with 1,250 of the top sports brands in the country to launch their own LockerDome networks - a list that includes celebrity athletes, media personalities, media companies, brands and amateur sports programs. Celebrity athletes, brands, and other sports entities incorporate their LockerDome strategy as a seamless extension of their overall existing social media strategy across Facebook and Twitter.
About LockerDome
LockerDome is a social media platform for your sports life - for athletes, fans, parents, coaches, scouts and more. Over two million people actively use LockerDome for consuming and sharing content around their interests - such as following their favorite pro athletes or managing a little league sports team - with those who share the same interests. Learn more at lockerdome.com.