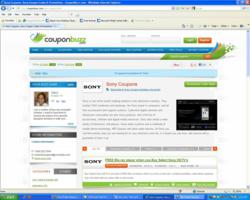 Bundling is a trick all savvy coupon shoppers should know about...
Houston, TX (PRWEB) October 12, 2012
The latest Sony coupon to hit the virtual shelves at CouponBuzz.com saves consumers $200 dollars when they bundle the Sony a57 Camera with several must-have accessories. Located in the dedicated Sony coupon section at CouponBuzz.com, the link connects visitors to the page where they can see the full details of the bundling deal. Essentially the deal allows shoppers to get all of the necessary start-up accessories, including a memory card, extra lenses, battery pack and carrying case, for a significantly lower price than purchasing them separately.
"Bundling is a trick all savvy coupon shoppers should know about," stated Justin Bowen, CEO of CouponBuzz.com. "Whenever you are purchasing any kind of electronic item, make sure to check and see if a bundle offer, like the Sony coupon we are currently featuring for the Sony a57 camera, can save you money on items you would purchase anyway."
Interested individuals can continue reading for further specifications on the Sony coupon for $200 dollars off the Sony a57 camera, or just click on the link below. The Sony a57 is a cutting edge digital camera that features accelerated speed, extreme sensitivity and impressive functionality. Its capacity to shoot 10 fps with continuous auto focus ensures that the vital shot will be captured in all its glory, The 16.1MP Exmor APS HD CMOS sensor creates perfect, high-resolution pictures, even in low-light settings. In addition, the tilt and swivel features of the LCD viewing screen make it easy to reference the shooting area and angles, to make sure the shot is positioned just right. Perhaps most impressive, this DSLR camera utilizes Translucent Mirror Technology to enable it to both focus with precision and shoot with speed.
The Sony coupon featured today will save consumers $200 when they bundle the Sony a57 camera with some impressive accessories. The bundle includes an 8-55mm lens for full-range in ordinary shooting environments, and the 55-200mm telephoto lens allows shooting at a distance. A 16GB SDHC memory card ensures that all the fabulous photos as well as the HD video recordings can be stored securely, and the rechargeable battery pack makes the camera ready for a full day of shooting. And lastly, of course, the carrying case, a sturdy black affair with lots of nifty pockets, cushioned and weatherproofed to protect the impressive device it holds. Full specifications on the a57 camera and its accessories can be found by clicking on the link to the Sony coupon for $200 dollar savings via bundling, located here in the Sony section at CouponBuzz.com, http://couponbuzz.com/sony-coupons.html.