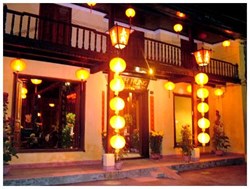 Reaching one of the most attractive beauty spot in Vietnam is now quite easy and cheap
(PRWEB) October 12, 2012
This season is expecting a large number of international tourists to Vietnam, especially Hoi An Old Quarter. At present, there are many Cheap Tours to Hoi An offered by Smile Travel Vietnam, the leading travel agency in Vietnam. Accordingly, customers will have chances to get big deals for each tour package. Reaching one of the most attractive beauty spots in Vietnam is now quite easy and cheap. Smile Travel Vietnam always ensures to bring customers the best service for tours in Hoi An.
Located nearby Cua Dai where the Thu Bon River meets Danang Sea, Hoi An (Vietnam) used to be the busiest commercial center in South East Asia during 16th and 17th centuries.The city has long been known as the combination of various cultures. In fact, this old quarter was inscribed on the World Heritage Liston the 4th, December 1999 for the well-preserved rich cultures vestiges for many generations.
It is said that all tourists, when visiting Hoi An, fall in love with its ancient and unique beauty. Being famous for unique architectural sites with ancient civil buildings, houses, worship and religious structures, Hoi An is also an exceptional example of fascinating deep-rooted custom, belief, culinary and cultural activities in daily lifestyle. Especially at night, Hoi An has long been the legend in the memory of tourists since it totally turns into a mysterious paradise with colorful lanterns along its downtown streets.
There are a variety of highlighted attractions that seem to touch visitors' hearts once coming here. Walking around Hoi An Old Quarter, tourists are fascinated by the endless reminiscences of the history. And Hoi An Traditional Art Performance Theater is an ideal place for those who are interested in its mysterious history stream. Tourists cannot skip Cu Lao Cham when staying in Hoi An. It is a group of 8 small islands with the marvelous topography of mountain slopes and biological diversity. Indeed, Cu Lao Cham Marine Park was recognized as the World Biosphere Reserve. It is sure many tourists used to be enchanted by the unique and majesty beauty of in My Son Sanctuary. No one can say which spot is the most attractive and beautiful in Hoi An. However, many people coming here states that Japanese Bridge is one of the most ancient and historical relics. For ages, the bridge has been renowned for the pure beauty of graceful curves and the inspiration from Zen spirit. Among various wonderful destinations in Hoi An, Fujian Assembly Hall is worth mentioning visiting. Besides, many other tourist attractions such as Chinese Assembly Hall, Tran Family Chapel, Tra Que Herb Village, Tan Ky Old House, and Kim Bong Carpentry Village are really interesting to both domestic and international tourists.
To have trips around Hoi An, travelers could either take caps, buses, cyclo or hire motorbikes and bicycles. Nevertheless, the greatest way to enjoy the very beauty of the ancient town is wondering on foot along all streets.
To have a trip to such a great place in Vietnam, people can Book Tours Now with Smile Travel Vietnam. There are also multiple tour packages for travelers. More information can be consulted on the website of Smile Travel Vietnam.