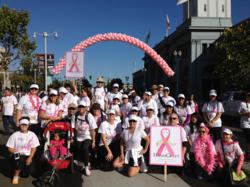 We are delighted that Cheryl Indelicato and HandCraft wines have stepped up to match our fundraising efforts during National Breast Cancer Awareness Month.
San Francisco, California (PRWEB) October 12, 2012
The Bay Area affiliate of Susan G. Komen for the Cure announced that it has received a $10,000 challenge grant from HandCraft Artisan Collection Wines. The HandCraft Challenge grant comes at a time when donations to the local Komen Bay Area affiliate have declined due to political controversy at the national level. "What people don't understand is that dollars raised by the local Komen affiliate stay local. Pulling back only hurts women who desperately need these services," stated Maria Sousa, Executive Director of the San Francisco Bay Area Komen affiliate. "The national organization has reorganized with new leadership and reversed policy decisions that ignited the controversy", said Sousa. "We are all united to provide women with the information and help that they need. However, good news travels slowly," she continued.
In 2012, the Bay Area affiliate has donated over $1.2 million to 19 local organizations including the Latina Breast Cancer Outreach and Early Detection Program in Alameda and Contra Costa counties and the Breast Cancer Emergency Fund that receives over a quarter of its budget from the local affiliate. "We are delighted that Cheryl Indelicato and HandCraft wines have stepped up to match our fundraising efforts during Breast Cancer Awareness month and are inspired to do even more. Our outreach activities meet the needs of diverse populations in nine Bay Area counties. Without our support, critical public health programs would not be funded," said Sousa.
Cheryl Indelicato, third generation California vintner and proprietor of HandCraft wines selected the Komen Bay Area affiliate as one of the organizations to benefit from her initiative to fight breast cancer. "I feel strongly about supporting the local affiliate especially at a time when donations have dropped. I am very moved by Maria's hard work and dedication. Under her leadership, the San Francisco affiliate chapter delivers important services to women throughout the Bay Area. I am confident she will maximize this challenge grant opportunity and I am pleased to help broaden the base of support," said Indelicato.
This year, Indelicato will donate $100,000 to breast cancer research and prevention. To raise awareness about breast cancer, she led Team HandCraft for the Susan G. Komen 3-Day (60 mile walk) in San Francisco in September 2012. Team HandCraft also participated in the Bay Area Komen 5K with 42 team members raising over $4,000 for the local affiliate.
As part of Handcraft's support of Sousa and the Bay Area affiliate, Cheryl will attend the 15th annual Survivor Tribute Luncheon on October 27th and has generously donated wines to be served at the event. "I was honored to be invited and look forward to raising a toast to this group of brave and inspiring women," said Cheryl. "As a nurse, I have seen firsthand the devastation of this disease and have tremendous respect for these women".
About the SF Bay Area Affiliate of Susan G. Komen for the Cure
The San Francisco Bay Area Affiliate of Susan G. Komen for the Cure® is dedicated to combating breast cancer at every front. Up to 75 percent of the Affiliate's net income goes toward funding grants to local hospitals, clinics and community organizations that provide breast health education and breast cancer screening and treatment programs for medically underserved women. The remaining net income (a minimum of 25 percent) supports the national Komen Grants Program, which funds groundbreaking breast cancer research, meritorious awards and educational and scientific programs around the world.
The Komen San Francisco's service area covers in the nine Bay Area counties of Sonoma, Napa, West Solano, Marin, San Francisco, Alameda, Contra Costa, San Mateo, and Santa Clara. Thanks to the thousands of people who participate in the Komen San Francisco Race for the Cure® and other Affiliate events each year, dedicated corporate partners and generous donors, Komen San Francisco is playing a vital role in fighting breast cancer in our community.