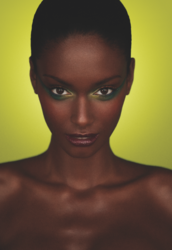 GOSH Cosmetics embraces a full range of offerings to suit every personality, from the quirky to the hip, from the career-conscious to the society butterfly, from the mature and serene to the enthusiastic young explorer
Johannesburg, Gauteng (PRWEB) October 16, 2012
At last, globally respected cosmetics and beauty brand GOSH has launched in South Africa. Available exclusively at Red Square and Edgars, the professional-quality products will leave consumers feeling inspired and exclaiming – 'Oh my GOSH'!
The range of products, which includes hair and skincare as well as fragrance, is inspired by gorgeous runway fashion trends. The fearlessly innovative colours and textures in their make-up will allow shoppers to glide right into the trendy summer social scene.
"It is a wonderful coup for Edgars and Red Square to introduce the GOSH range of products to South Africa," comments Angela Eaton Corder, Executive Buying Manager for GOSH at Edcon. "For over 25 years, GOSH Cosmetics has become renowned in over 78 countries throughout the world for its ability to understand the fluctuating needs and aspirations of the modern woman and most of their products are free of parabens and perfumes, so they are ideal for any skin type".
Make-up your GOSH Look
"GOSH Cosmetics embraces a full range of offerings to suit every personality, from the quirky to the hip, from the career-conscious to the society butterfly, from the mature and serene to the enthusiastic young explorer of life: and all at prices every young woman can afford," she continues.
Her words are no exaggeration. GOSH has an avant-garde and edgy product for almost every image. If you are looking to express your individuality, the GOSH DNA fragrance range will entice. If it's sultry and seductive, look to the Smokey Eyes palette, with its exquisitely combined and easy-to-blend colours, complemented by a folder that guides you to the most amazing smokey eyes, while 'GOSH In The Box' for Women is a scent you can wear with passion.
If it's light, youthful and glowing, search no further than the innovative self-tanning and skincare range full of creamy moisturiser that caters for different skin types or the ultra-feminine 'Nothing More' fragrance.
If you want to be dramatic and eye-catching then Volume Lip Shine gives a temptingly "plumping" effect without the weird tickling feeling. The ultimate Brow Kit creates brows that are full and defined to suit the modern trend. Lips can be sensuously glossed with Light'n Shine Lip Glaze's nifty built-in mirror and light. "Oh my Gosh!" will be on everyone's lips when they try this!
Inspire & Innovate
What about the Mineral Colour Pigments to entice and inspire your creativity? Use them on your eyes, your lips, as a highlighter, or body glow, or mix them in body lotion, hair gel or on top of your nail polish – Hey! Have fun, be daring, experiment!
Most of the cosmetic products are charged with natural components that further enhance health and beauty like vitamin E that prevents free radicals, Aloe Vera, B and C vitamins vegetable oils, Shea butter and Jojoba oil.
"We have been carefully researching cosmetics, their role and the changing requirements of modern women for decades," comments Hanne Zinsli, International Sales Director of GOSH Cosmetics in Denmark. "Today there is a hankering for colour and vitality to reflect the enjoyment of life in all its fascination, for trendiness and enthusiasm. Our exceptional innovation and in-depth expertise are able to ensure that we can fulfill these emotional needs."
GOSH Cosmetics will be available in select Edgars & Red Square stores from mid-October, with more stores rolling out in November. For more information go to http://www.goshsa.co.za
About GOSH Cosmetics
GOSH Cosmetics is an innovative and trendy cosmetics brand from Denmark that has been turning heads for more than 25 years. It is currently represented in over 78 countries worldwide and is now available in South Africa for the first time, exclusively in Edgars and Red Square stores. The product range includes colour, fragrance, skincare and haircare.
GOSH Cosmetics is known for its colourful, edgy and innovative products that are fun and inspiring to use. The products are produced by GOSH Cosmetics themselves in Denmark - mostly free of perfumes and parabens and are therefore ideal for all kinds of skin.
Upcoming fashion and beauty trends as well as new consumer needs are the source of inspiration and the starting point for GOSH Cosmetics. They are continuously developing new and exciting products for the consumer that demands more than the ordinary and is daring and experimental.
The broad product range leaves nothing to be desired and allows the consumers to match and underline their own individual style. Discover the different categories of GOSH's unique cosmetics range and get inspired.
The company has its roots in the pharmaceutical industry and their products are PETA-approved, which adds further confidence and cachet to the quality of its products.