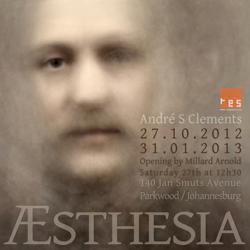 ...from the realism of photography, to almost painterly-abstract computationally produced portraits and landscapes.
Johannesburg, South Africa (PRWEB) October 15, 2012
The debut solo exhibition from Johannesburg artist Andre Clements presents a bold progression from single-exposure fine-art portraiture, to more complex and abstract works formed by meticulous multi-layering and selective alignments facilitated by computational technology.
Starting with single layers, Clements presents an insider's glimpse of the aesthetic process-experience of several of his peers, featuring the artists Minette Vari, Wayne Barker, Alexandra Ross, Dianne Victor and Frikkie Eksteen. Then comes the multiple-layer work, including both individual and composite 'portraits', and landscapes.
The earliest work is the 'Untitled Kentridge', created in 2006 from a composite of 192 of the renowned artist's etchings. The last work prepared for the show brings that gesture full-circle with 'Unsigned David Krut', a squeeze-of-essence of 250 of the top works from the David Krut Print Workshop studio's catalogue.
Moving beyond the self-reflexive focus on the art world and its processes, 'State of Head' is a composite portrait of South African Premiers: PW Botha, FW De Klerk, Nelson Mandela, Thabo Mbeki, Kgalema Mothlante and Jacob Zuma, created from a total of 12 images. The artist's portrayal of screen writer Thandi Brewer as Muse-mother Mnemosyne comprises 26 nude photographs, while the final piece in 'The Composers' series shows us the face of the 'average' modern classical composer, an epic work that interweaves no less than individual 1280 layers.
The technique that Clements uses results in an effect that could be described as holographic; an eerie creation of a new individual 'identity' that emerges from the characteristics common to a particular collective, or, where there is a single model, a collection of moments and moods. The composite portrait of the Baroque composers is visually distinct and has a completely different 'personality' from that of the composers from the Romantic era, for example; while the single image of the 100 bridges from the West rand to the East Rand and back evokes a typical (to the point of becoming archetypal) Gauteng experience.
The collection as a whole catalyses a re-investigation of the ordinary, a re-awakening of perception. According to Clements: 'Æsthesia' is about perception and sensation, literally sense-ability. Æsthesia, in contrast to anaesthesia and numbness, is like an essence of aesthetics and the sublime that we crave in culture and life.'
'Æsthesia' will be opened by Millard Arnold at 12:30 on 27 October 2012 at the Res Gallery, 4 Chester Court, 140 Jan Smuts Ave, Parkwood; and run until Febraury2013.
Opening hours: Monday to Friday 9:30 to 5:30, Saturday 9:30 to 2:30.
Enquiries: André on +27 (0)82 8120549 / info(at)andresclements(dot)com