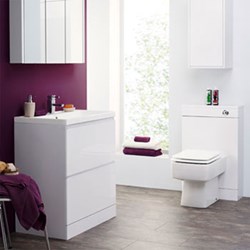 Bella Bathrooms have recently added a new range of luxury premier bathroom furniture
(PRWEB UK) 12 October 2012
Bathroom Furniture such bathroom cabinets and vanity units are increasingly popular in modern day households offering great functionality and practicality. Bella Bathrooms have recently added a new range of luxury premier bathroom furniture available to purchase now. Premier bathroom furniture offers great styling to help achieve a modern and clean look in any bathroom whilst also providing ample amounts of storage to help keep the bathroom clutter free.
Along with the new additions of bathroom furniture to Bella Bathroom they have also introduced a selection of new bathroom cabinets along with helpful navigation to ease the process of choosing the right bathroom cabinet. Increasing the amount bathroom storage means that the rest room can be a much more organised place without having to carry out an entire bathroom make over. The new ranges of bathroom cabinets are available with a wide range of features including: mirrored door, shaver sockets, clocks, radios and integrated shelves to ensure value for money and help keep bathrooms as up to date as possible. Along with the more technically advanced bathroom cabinets Bella Bathrooms also have range standard bathroom cabinets for people who just desire the basics.
The new range of premier vanity units now only at class and sophistication to a bathroom but vanity units also provide opportunities to hide certain parts of the bathroom such as: bottle traps, piping and fittings giving it an overall cleaner cut and modern look. The new range of Premier bathroom furniture focuses on giving any bathroom a modern look with the furniture available in solid white gloss and gloss black finishes along with a range of sizes and type including vanity units, drawer units, toilet units and tall cabinets.
With the wide range of bathroom furniture available at Bella Bathrooms there is sure to be the perfect piece for any bathroom available.
About Bella Bathrooms:
Bella Bathrooms is one of the finest UK online bathroom retailers based in the North-East of England and offer continuous great deals of bathroom refurbishments, shower, tower rail and radiator updates, bathroom furniture and various other key aspects at prices that are guaranteed to be unsurpassable. The latest updates continuously made have further improved the overall quality and they have set a high standard for things to come in the future.
Bella Bathrooms
Tel: 0844 8117 017
Available to contact from 9:00 – 5:30