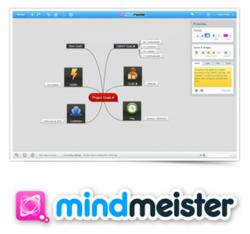 Present state-of-the-art slideshows, all from within a single platform.
Munich (PRWEB) October 13, 2012
Web applications firm MeisterLabs announces the integration of a brand new online presentation tool into its award-winning mind mapping tool MindMeister. With this, the well-established provider of online collaboration services enters the fast-growing market of browser-based presentations.
Using the latest in web technology, MindMeister's presentation feature uses striking zoom and pan effects across the mind map canvas to ensure the attention of audiences bored by old-fashioned, linear slideshows.
This new approach to creating presentations enables users to easily and speedily plan, create, and present state-of-the-art slideshows, all from within a single platform. MindMeister's built-in mind mapping functions furthermore allow users to quickly capture and organise ideas before committing them to presentation format. Unlike established software packages such as PowerPoint, Keynote, or new contender Prezi, this bridges the gap between content creation and publication.
"One of the big advantages of presenting content via mind maps is that it gives the audience a very real sense of context and structure that is missing from normal slideshows", says Michael Hollauf, Managing Director of MeisterLabs. "Viewers always know where they are on the mind map canvas and can form a more visual picture of the presented content in their minds."
The MindMeister Presentation Mode runs in all modern web browsers and offers various settings that enable the user to control transition effects including, blur, pan and zoom. MindMeister's web-native mind mapping software supports simple drag and drop of links, images and documents from the web into a presentation, so slides are created instantly as there's no need for downloading or importing.
Thanks to MindMeister's built-in collaboration, presenters can choose to broadcast slideshows to other users currently viewing the same map. This feature is especially interesting for business and academic applications, allowing guided walkthroughs of complex topics.
The new Presentation Mode is available starting today to all MindMeister users, including holders of the free basic account. A short introduction video is available here.