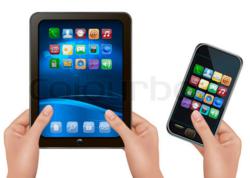 It's crucial that a company fully understands the difference between a smart-phone user and a mobile-tablet user.
(PRWEB UK) 15 October 2012
Mobile-marketing is now a mandatory facet of any successful marketing campaign. Marketing companies connecting to a potential client base through mobile devices create a ubiquitous presence being present at all times to serve a customer's needs; therefore tailoring a bespoke marketing experience around the consumer's lifestyle.
Until now 'mobile-marketing' has connoted the use of smart-phones, but the ascent in mobile-tablet usage is something that needs to be taken into consideration.
With every big game player in the technology world dabbling with the mobile-tablet, a consumer can pick up a tablet to suit all needs and brand loyalties; from Amazon to Apple, there is a mobile-tablet to suit every individual.
Figures demonstrate that;

Of the UK population, eight per cent own a mobile-tablet: equating to roughly three million people.
73% of these are iPad owners.
Nowadays, a mobile-tablet can be brought cheaper than many smart-phones. Dodging the current economical strain, the rise in the purchases of mobile-tablets has had a knock-on effect into the realm of online shopping.
Due to benefits such as; larger screens with better visual quality, ease of usage and the leisurely nature of the device, online shopping through the medium has increased.
Statistics from the British Retail Consortium (BRC) demonstrate that;

"Four out of every ten searches related to safe shopping online were made from a tablet."
"Year on Year, tablet searches are up by 163 per cent; making it the biggest area for growth in relation to the mobile-market on a whole."
Tablets count for 40% of all retail searches on mobile devices.
As can be seen from these statistics, the mobile-tablet market is exploding in the same voracity as the smart-phone market did previously.
Furthermore, a recent Rackspace survey has shown that impulse purchases in particular have increased as a result of the increase of mobile-tablet owners;

17% of the 2,009 respondents of the Rackspace survey state that mobile-devices have increased their impulse purchases.
This presents an opportunity not to be missed for a company to take advantage of the rising popularity of the mobile-tablet market.
Waseem Saddique comments, "We have seen a massive increase in marketing opportunities with the surge of users switching to smart-phones as a means of making purchases. It is certain that the rising popularity of the mobile-tablet will mimic this. Therefore marketing organisations need to implement measures to cater for this."
"Companies need to exploit the best of both worlds element of mobile-tablets. Tablets offer the clarity and ease of a laptop, whilst combining the portability and technologically-savvy elements of a smart-phone."
Many of the beneficial elements of smart-phone mobile-marketing cross the channel into the mobile-tablet market;

Companies can feed the consumer round the clock, regardless of location.
Companies can optimise to suit on-the-go web searches and social media sites, honing in on a particular customer target base.
Whilst bearing this in mind, any company wanting to crack the world of mobile-tablet marketing need to differentiate between the two; taking full advantage of the elements that a mobile-tablet offers, that a smart-phone doesn't is vital.
The screen on a mobile-tablet offers higher clarity, more space to navigate and an experience more akin to using a laptop; a company must take full advantage of this. Whereas a mobile-site usually requires condensed, objective and often un-engaging content; a mobile-tablet offers much more room to engage. A mobile-tablet site should do all that a lap-top or PC website can do. Whereas a site engineered for a smart-phone has to cater for the on-the-go user, a mobile-tablet site should capture the leisurely aspect of the tablet itself. Therefore, why not offer an internet experience like that of a laptop, but incorporating the engaging features that a mobile-tablet allows; such as touch screens and rotating displays. Engagement is imperative.
'Apps' are looking to be the most imperative facet of a mobile-marketing campaign. Therefore a mobile-tablet marketing campaign should take full advantage of doing what a smart-phone cannot. Like smart-phone mobile-sites, smart-phone apps are tailored for their efficiency, for on-the-go assistance. A mobile-tablet user on the other hand wants to consume content. Therefore it poses the opportunity to create an edifying and engaging experience for a user; tablet apps can be indulgent and rich with technological aesthetics.
Mobile-tablet sites also offer a company to exploit its SEO possibilities. As stated earlier, a smart-phone search is tailored for efficient, bite-size chunks of information tailored for the specific user or purpose. A mobile-tablet on the other hand allows for more SEO opportunities. The larger screen allows for more search results to be viewed at one time, the leisurely aspect of mobile-tablet usage allows a company to be more indulgent and engaging with its user and importantly, the preciseness of target consumers can be flexed; removing the need for hyper-efficiency means that a company can broaden its target audience.
Waseem Saddique states, "It's crucial that a company fully understands the difference between a smart-phone user and a mobile-tablet user. While both offer lucrative opportunities for a company to broaden their presence and audience, it is vital that a company differentiates between the two. A smart-phone engineered site used on a tablet often gives unprofessional impressions. A company needs to ensure it exploits all what a mobile-tablet can offer; to stay ahead in the technological advances of a consumerist market and to ensure it is taken as professional."