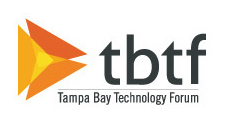 Our tech industry's future is dependent upon this region's ability to provide the right talent to fuel their growth. As the voice of Tampa Bay's tech industry, we will always make sure that its needs are heard loud and clear.
Tampa, FL (PRWEB) October 12, 2012
The Tampa Bay Technology Forum(TBTF), Florida's largest and most influential technology association, today announced specific plans for implementing recommendations set forth in the Tampa Bay IT Workforce Gap Analysis study, the results of which were published yesterday at a media event in St. Petersburg. The study, commissioned by a group of regional economic development associations, workforce boards, and TBTF, analyzed the availability of qualified Information Technology (IT) workers in Hillsborough and Pinellas counties and identified the current needs of local companies. The document provides proactive recommendations to ensure a steady pipeline of future tech talent as the community prepares for anticipated economic growth.
"In this first year of implementation, TBTF will focus intensely on ensuring that the partnerships and programs recommended today are established and make swift progress," said Heather Kenyon, CEO of TBTF. "Our tech industry's future is dependent upon this region's ability to provide the right talent to fuel their growth. As the voice of Tampa Bay's tech industry, we will always make sure that its needs are heard loud and clear, and that our workforce and education partners understand those needs so they can serve them well."
A nationwide issue of growing importance, the supply of skilled IT employees has become increasingly important to a broad range of technology-driven industries, including many of those targeted within the Tampa Bay region. Communities across the country have begun to explore the topic, in an effort to mitigate employer concerns as rapid job creation leads to increased demand.
TBTF, along with the Tampa Hillsborough Economic Development Corporation, Tampa Bay Workforce Alliance, Tampa Bay Partnership, Florida High Tech Corridor, and Pinellas County Economic Development, convened in April to form the Tampa Bay IT Workforce Task Force and plan the study.
"A strong workforce is one of the most significant factors in business relocation and expansion decisions," said Rick Homans, President and CEO of the Tampa Hillsborough Economic Development Corporation and chair of the task force. "Access to IT talent directly affects our ability to attract companies to the area, as well as retain our existing businesses. We intend to address the situation now, before it becomes critical, so we can create an optimal environment for growth."
The IT Workforce Analysis commenced in May, led by project manager Patricia Gehant and supported by research analyst Clay Gambetti. An initial workforce survey was distributed to more than 140 technology companies located in Hillsborough and Pinellas counties, with responses representing over 25% of the total IT workforce. In-depth individual interviews were conducted with 60 business and academic leaders, followed by a series of seven focus groups targeting students, C-level executives, current IT employees, HR professionals and educational institutions. The resulting research recognized a community rich in quality education, innovative business leaders and willing talent, although some opportunities do exist.
Key findings include:

Companies are experiencing an immediate need for employees with skills in Java, .Net and Agile development, CRM, SharePoint and security, as well as experienced cloud computing and sales engineers
Areas of anticipated growth include business analytics, big data, desktop support, security specialists, and computer and software engineers
Companies are seeking individuals with three to five years of work experience in an enterprise environment, and the ability to be productive from the first day
Business are requiring their employees to do more and maintain multiple skills
Small to mid-size companies without a formal new-hire training program reported the greatest challenges in finding entry-level candidates with the necessary technical knowledge
IT professionals are required to be lifelong learners due to rapid changes in technology
Students need to have more real-world technical skills when entering the job market
Students have a limited knowledge of the local technology job market
Business, education and students are all willing and interested in working together.
Based on these findings, the IT Workforce Task Force has developed a series of recommendations designed to effectively and efficiently fill the gaps by strengthening the connections between business, education, government and community partners.
Under the umbrella of "Grow Tampa Bay Tech," TBTF will manage the implementation process and serve as a central point of contact for business and education partners. The members of the IT Workforce Task Force will continue to operate in an advisory role and assist in the coordination and execution of program initiatives.
TBTF has hired Patricia Gehant as Director of Workforce Initiatives to manage the implementation of the study's recommendations in the first year. These recommendations include:
Real-world training for high demand jobs
Create a series of exploration labs that allow students to practice technical skills
Rapidly deploy ongoing training opportunities in high demand skills
Encourage business professionals to work with educators to define and deliver current technical skills
Streamlined internships for the workforce of tomorrow
Expand available internship opportunities
Train businesses on best practices for effective internships
Utilize technology and social media to connect students with local internship opportunities
Innovative career development, recruitment and retention practices
Engage local user groups and IT MeetUps
Recruit veterans into jobs requiring high demand IT skills
Develop a Talent Satisfaction Index to quantify personal and professional satisfaction related to job retention
Regional marketing and external recruitment efforts
Conduct community challenges (i.e. Hack-a-thons, code builds, etc.) to expose IT talent to local companies and job opportunities
Introduce Tampa Bay Technology Forum chapters at area colleges and universities
Grow partnerships between businesses and the K-12 school systems
Market the area to increase the in-migration of IT talent
Train HR and recruitment representatives to sell the unique assets of the area to external talent.
TBTF has already begun implementing the study's recommendations, and the following projects are underway:
TBTF is hosting an Internship Fair at the University of South Florida's Tampa campus on October 16
TBTF Student Chapters are rolling out across campuses in the region, with the first having launched at USF St. Petersburg
A comprehensive social media plan is in the works to help promote the region's tech businesses and industry happenings to students
A Curriculum Advisory Group has been established with the Greater Tampa Chamber of Commerce to help veterans get the skills refinement or new training they need to join the local tech workforce. The group will collaborate with education and training providers to develop these specific programs.
Please visit http://www.tampabayitworkforcesurvey.org to view a full copy of the report, and find out how to participate in ongoing program implementation initiatives.
About the Tampa Bay IT Workforce Analysis
A regional task force of business and economic development partners provided oversight and strategic direction for the Tampa Bay IT Workforce Analysis. The report was funded by the Tampa Bay Workforce Alliance. Secondary funding was provided by the Florida High Tech Corridor Council, Tampa Hillsborough Economic Development Corporation, Pinellas County Economic Development, Tampa Bay Technology Forum, Tampa Bay Partnership, Hernando County Office of Business Development, Manatee Economic Development Corporation, Central Florida Development Council, Pasco Economic Development Corporation and the Economic Development Corporation of Sarasota County.
About Tampa Bay Technology Forum
Founded in 2000, the Tampa Bay Technology Forum (TBTF) is a non-profit membership association committed to connecting and growing the technology community in Tampa Bay. TBTF's 300+ member companies represent technology entrepreneurs, business and community leaders, investors, government representatives, researchers and educators.
For more information, visit http://www.tbtf.org.