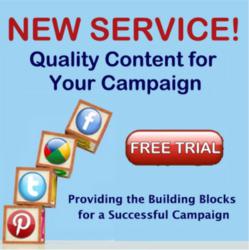 "Marketing is no longer about the stuff that you make, but about the stories you tell." – Seth Godin
(PRWEB) October 15, 2012
With over 1 billion people on Facebook, and numbers continuing to grow for other social sites, business people today can't afford to ignore social media marketing. But figuring out how to engage on the social sites is often a challenge. The Word Pro is pleased to announce a service that provides affordable "social" content to businesses and professionals that can be used to grow their social media sites and help in their SEO efforts.
According to Laura Donovan, Vice President of Social Media Services, interesting content—including articles, local or national news items, how-to information, fun photos, cartoons, and quotes—not only engages fans and friends, but also encourages them to share this content across the Internet. This raises awareness of the company, gives them a larger pool of potential customers, and even helps increase their rank on search engines.
While many companies are able to come up with the 20% of content marketers agree should be geared toward sales, they may find it more difficult to come up with the 70% of content that should be engaging, informative and entertaining. For only $29.95 per month, members of the new website (http://socialmediamarketing-help.com ) can upload a wide assortment of timely news items, informational articles, cartoons, quotes, fun images and more. Donovan asserts that there really is something there for every type of business and plenty of new content each month to provide a steady stream of posts. To launch the program, and for a limited time, the Word Pro is offering subscribers a free trial membership.
The Word Pro has been providing marketing help to clients since 1995, and has been managing social media campaigns for businesses, restaurants and professionals since 2009. This new service caters to clients who would like to control their own pages, but don't have the time or resources to research high quality content. For companies who wish to have their entire social media campaigns managed by an experienced professional, The Word Pro offers several affordable options.
For further information on the social content service or other marketing services, please call Laura Donovan at (630) 362-4538 or check the websites at http://www.thewordpro.com and http://socialmediamarketing-help.com .
###