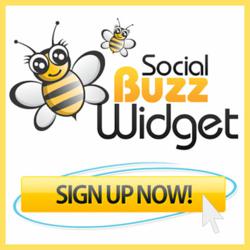 You could consider it a fusion between a social bookmarking service like Reddit.com and a viral content aggregator like BuzzFeed.com. If they hooked up and had a baby, the socialbuzzwidget.com would be their love child
Wellington, New Zealand (PRWEB) October 12, 2012
The launch of Social Buzz Widget marks an exciting turning point and the introduction of a powerful new communications channel for online marketers who want to generate more targeted traffic and social media activity to their websites with a unique new service. SocialBuzzWidget.com is a free social media-advertising network, which provides mission critical feedback by displaying the most socially popular and active content online. That feedback is distributed inside an interactive widget across all member websites. The approach taken by the service is truly a unique and innovative first of its kind solution, and can provide a competitive advantage to marketers that are able to exploit this new service within their overall online marketing schemes.
Duncan Carver who is the brains behind the project says, "You could consider it a fusion between a social bookmarking service like Reddit.com and a viral content aggregator like BuzzFeed.com. If they hooked up and had a baby, the socialbuzzwidget.com would be their love child" Carver adds, " …however unlike Reddit.com our viewing audience is distributed across all member websites rather than a central hub, making it a lot more powerful in terms of the quality of visitors that it can produce."
The SocialBuzzWidget.com tracks and monitors all new content posted to websites within the network throughout the day, via their RSS feeds, and continually analyzes the social interactions of that content. FaceBook Likes, Tweets, and LinkedIn Shares are all tracked in real time and then displayed within the Social Buzz Widget along with its respective article. How that content is shown inside the widget is based upon popularity across the network. The more popular it is, the more exposure it receives.
During a private BETA release the Social Buzz Widget attracted several hundred bloggers and began serving up over 10,000 widget displays within just a matter of days. Having been satisfied with the reliability of their framework, Carver says, "We quietly went into open BETA earlier this week and have been growing at a steady pace due to the socially viral nature of the network itself".
The service made the strategic decision to host on the Amazon.com Cloud so they could instantly scale with the capability of serving up literally millions of widget impressions per day without major issue. They are fully prepared to serve up over a million widget impressions per day by the end of this December, across the entire network, Carver says.
The way their system works is that the more popular content becomes, the more exposure it receives. Members earn credits for displaying the widget to visitors on their own websites, and in turn those credits grant the member an equal amount of exposure of their latest blog content on other widgets across the network.
This gives members a unique way to gain exposure to a new-targeted audience and generate more social media activity for their content. Socialbuzzwidget's goal is to drive more high quality receptive visitors to member's websites throughout the network, in an attempt to set them apart in the social media sphere.
Carver says he saw the opportunity for the service when he recognized the problem a lot of webmasters report, when they're lucky enough to have a story featured on the front page of Reddit.com or Digg.com (which can result in tens of thousands of new visitors), is that most of those visitors are "ad blind" and don't convert into ad clicks, new leads, or sales. This is largely because those visitors tend to be experienced "techie orientated" people.
Given that the SocialBuzzWidget is distributed to a broad audience on thousands of independent websites, members gain exposure to the general internet population visiting all those websites, making those visitors much more receptive. Visitors arriving via the widget will be more inline with the type of visitors that arrive via a Google Adwords campaign.
Future plans for SocialBuzzWidget include introducing category based targeting within widgets. To illustrate "gardening" related content will be shown on "gardening" related websites within the network.
What is important to note about the service is that a member whose latest content makes it into the "Most Popular" tab of the widget for the day can not only generate tens of thousands of new visitors to that content, but those visitors will be extremely targeted and receptive to the sellers proposition. For a free service this provides tremendous value and leverage for serious bloggers and online marketers, and is something they will want to look into right away.
SocialBuzzWidget uses the most popular social media metrics to determine content popularity, and is designed and develop to give a more accurate representation of popular content across the total spectrum of Internet users. To learn more about utilizing the many benefits of this free service please click on this link now: http://www.socialbuzzwidget.com/
]
Duncan Carver is the owner of Bugdugle Limited, a website marketing firm based in Wellington New Zealand. He is also the publisher of the popular free internet marketing newsletter Online Marketing Today - read by more than 47,000 web marketers from around the world. You can request a free subscription at: http://www.onlinemarketingtoday.com