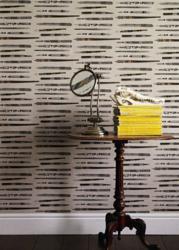 (PRWEB UK) 14 October 2012
The wallpaper renaissance showed no signs of slowing down as the leading design houses launched their new collections for commercial and domestic interiors for the autumn at London Design Week in September. Many of the new designs have been unveiled on Fabricsandpapers.com, the leading online retailer for curtain fabric, upholstery fabric and designer wallpaper.
Linwood launched an eccentric and playful collection of designer wallpaper in London called Art House which was one of the highlights on show. It draws inspiration from an eclectic range of sources including cityscapes, forest walks, bold fonts and English tea. With a combination of bright colours and sepia topes the designs make an ideal wallpaper portfolio.
Cole and Son, one of the most successful wallpaper houses in the last decade launched its Festival Stripes collection at the exhibition. The collection is inspired by the marquees, racing colours and blazers found at British sporting events and festivals. The 12 designs in the collection, in a total of 56 crisp and modern colour ways, work well in both contemporary and classis settings setting.
Sanderson also kept to the classis English theme with its new Richmond Hill wallpaper portfolio featuring 8 designs including paisleys, stripes and damasks. The collection follows the English tradition of seeking inspiration for interior design from around the globe using new and old imagery from India China and Europe. The wallpapers will enhance both contemporary and traditional interiors utilising a soft useable palette.
Designers Guild unveiled its Castellani Wallpaper collection at the show. Castellani is a sophisticated collection of designs with an emphasis on textural detail reflecting the textures of the Castellani and Moselle fabric collections which feature velvets, chenilles and complex jacquards and natural woven designs. Creating depth and dimension, the new collection offers designs that can be a used as a harmonious base to introduce print, colour and pattern.
The Town and Country collection launched by Zoffany provides a versatile mix of gently patterned wallpapers which have been designed for both town house interiors and relaxed country living. A sophisticated, mineral inspired colour palette and an emphasis on surface texture can be used to create room schemes that are chic and contemporary, or casual and comfortable. Its wild silk and linen designs are particularly effective.
The former Vogue Living Editor, Vanessa Barneby and designer, Alice Gates, who have teamed up to become Barneby Gates launched some beautifully quirky wallpaper patterns at Decorex. This included Fresco Birds, which creates an effect of a beaten up plaster wall complete with paint marks , old nails and graffiti-style scratches which is softened by decaying grey swallows flitting across the paper. Also new for 2012 is Honey Bees, a geometric honeycomb pattern interspersed with bees, created using the traditional surface print technique for a hand-stamped finish.
Emma Vans Agnew, design director, Fabricsandpapers.com, said: "The leading interior design houses presented a myriad of designs and textures for their wallpaper collections at London Design Week using inspiration from historical archives as well fashion trends of the moment. The new designs epitomised the house styles of the major design teams. Shades of grey and muted natural colours are the predominant colours of the moment providing a calming base layer to build on".
By exploring http://www.fabricsandpapers.com, customers can create their own schemes and request wallpaper samples from over 6,000 carefully selected wallpapers and fabrics. A dedicated design team is on hand at the end of a telephone line (01273 495500) to discuss customers' individual requirements and offer help and advice.
Note to editors
We can offer a swatch service, fabric loans and supply, based on merit, for all our designers to assist you in sourcing for your editorial requirements.
Please contact: Emma vans Agnew Tel 01273 495500