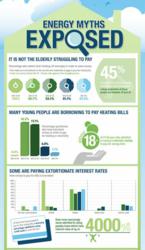 We were very disturbed by some of the findings of the survey and we were surprised in particular that it appears to be younger people who are struggling to pay their energy bills
(PRWEB UK) 14 October 2012
UK FAMILIES face the great 'Heat or Eat' debate as the 'big six' energy companies are set to increase gas and electricity prices by an average of 6% onto annual bills.
In a disturbing study by Find Energy Saving it has been revealed that hundreds of thousands of people in the UK are facing the financial choice between heating their homes or feeding themselves.
In a contradiction to the perceived wisdom that it is the elderly who suffer most due to high energy costs, a survey by the Find Energy Savings website reveals that 25% of 30-39 year olds have had to choose between food or heating at least once. Other findings from the survey include:

45% of people asked said that they turned off their heating every day to save money
18% of 21-29 year olds have borrowed money to pay for heating or electricity
80% of people asked said they would rather the government reduced tax on energy and increase tax on alcohol and cigarettes to pay for it
48% of people said that they would not be prepared to pay more for energy from renewable sources as opposed to 20% who said they would
It seems that this study is only reinforced by the growing concern in the rise of energy bills as British Gas announced this week that the average dual-fuel bill is set to rise by more than £80 and will break the £1,300 mark.
Pushing households into further financial strain, British Gas have pointed the blame at the National Grid network and higher wholesale prices rising.
However, it seems for energy consumers the worse is yet to come as Npower, EDF Energy and Scottish Power have not made any promise that they will not increase prices by the end of the year, with some industry experts predicting a rise of nearly 10% in energy bills.
In a statement, the CEO of Find Energy Savings, Justin Elliott said:
"We were very disturbed by some of the findings of the survey and we were surprised in particular that it appears to be younger people who are struggling to pay their energy bills rather than the elderly who are most often portrayed as the most vulnerable to high energy costs. We were also very concerned about the number of people who said that they have had to borrow money to pay for energy bills – some of whom even said that they had used payday loans at extortionate interest rates."
To illustrate the findings of the survey in an easy to digest fashion, Find Energy Savings have produced an infographic which can be found by clicking here.
The survey was conducted in March 2012 and 1095 people took part. Find Energy Savings plan to release the full results of the survey later on in the year.