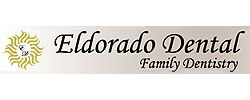 McKinney, TX (PRWEB) October 12, 2012
Eldorado Denal, a trust provider of quality dental services in McKinney, Texas, is pleased to announce their new teeth whitening special. In an effort to offer clients a discount on teeth whitening services, the dental practice is currently offering a $299.00 in-office or $199.00 take home teeth-whitening special.
Eldorado Dental provides Zoom Teeth Whitening, a one hour in-office dental whitening treatment that involves a strong bleaching agent that is applied to teeth. The Zoom Teeth Whitening procedure is simple. It begins with a short preparation to isolate the patient's lips and gums. Zoom Teeth Whitening Gel, which contains Hydrogen Peroxide, is applied, and is activated by a specially designed light. The treatment ends with a fluoride treatment and typically makes teeth two to five shades whiter depending on how porous the teeth are.
In addition to teeth whitening services, Eldorado Dental provides full service family dental care, including Composite "white" fillings, Crowns, Bridges, Partials/Dentures, Root Canals, Extractions and Mouth Guards, with Nitrous Oxide (laughing gas) available for patients who need it. The practice also offers routine checkups, regular cleanings and free second opinions.
"Eldorado Dental is ready to welcome you to our practice and to a life of great dental health," says Tony Reyes, D.D.S., owner of Eldorado Dental. "We believe that each person who walks through our door is entitled to the best care we can possibly offer."
Eldorado Dental accept most insurance plans and offers zero percent financing. For complete information about Dr. Tony Reyes, D.D.S and all Eldorado Dental services, visit their website at http://www.eldoradodentistry.com.
About the company:
Welcome to Eldorado Dental where the gentle, caring and competent staff members at Eldorado Dental want to help preserve your smiles for years to come. They understand the importance of that smile. Smiles give people confidence, and it gives others confidence in them. For more information, please visit their website at http://www.eldoradodentistrydfw.com.