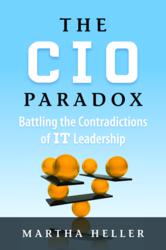 The keys to solving the CIO Paradox, or 'breaking the paradox,'" writes Heller, "lie in the experiences, thoughts, lessons learned, philosophies, wit and wisdom of all those CIOs who are actually doing these jobs.
Boston, MA (PRWEB) October 16, 2012
There is something paradoxically wrong about the way we run our businesses. Most companies, whether they like it or not, are tethered to technology. It's the engine of today's economy, and it powers daily operations, innovation, new products, and perhaps most importantly, financial performance. Mastering technology is one of the strongest predictors of a company's success, and those at the helm of it all, IT leaders, are in the crosshairs. Ironically, these technology executives are not empowered to drive IT to its full potential.
In a new book, THE CIO PARADOX: Battling the Contradictions of IT Leadership, author Martha Heller brings to light a set of opposing forces which besiege IT executives and their quest for success every day. Heller uses her experience as an IT thought leader and in-depth interviews with seasoned Chief Information Officers to articulate the problematic structure of the CIO role into a sage resource for all executives running a business. Published by Bibliomotion, THE CIO PARADOX will be released on October 16, 2012, and available from Amazon.com, Barnes & Noble and other book retailers in hardcover and e-book formats.
The successful management of information has become so critical to a company's goals that, in many ways, now is the age of the CIO. Yet IT executives are plagued by a host of contradictions: bad technology can bring a company to its knees, but corporate boards rarely employ CIOs; CIOs must keep costs down at the very same time that they drive innovation. These contradictions, among others, help form what Martha Heller calls The CIO Paradox, a set of conflicting forces that are deeply embedded in governance, staffing, executive expectations, and even corporate culture.
"The keys to solving the CIO Paradox, or 'breaking the paradox,'" writes Heller, "lie in the experiences, lessons learned, philosophies, wit and wisdom of all those CIOs who are actually doing these jobs."
It's a solution Heller has been cultivating for over a decade. Her long running column in CIO magazine has provided the IT community with her insider's knowledge and accessibility. Through interviews with successful CIOs from companies such as Alcoa, Boeing, Sysco, Motorola, and Cox Communications, her new book offers IT executives guidance on how to attack, reverse, or neutralize the inherent contradictions of this leadership role. These first-hand accounts provide readers with an invaluable relationship to the larger CIO community, and also help CFOs, CEOs, and HR professionals know exactly what their own CIO is up against.
Some key CIO paradoxes impacting company performance today, and that Heller addresses, include:

You were hired to be strategic, but you spend most of your time on operational issues and putting out fires.
Your many successes are invisible; your few mistakes highly visible.
Technology is a long-term investment, but the company thinks in quarters.
You run one of the most pervasive, critical functions in the company, yet you must prove your value constantly.
THE CIO PARADOX comes amid the rise of the cloud, mobility, and consumerization, with IT located at the nexus of all things. Indeed, there is no facet of an organization in which IT does not have some sort of accountability.
Recruiting and developing technology talent is more crucial now than ever before. As President of Heller Search Associates, a retained executive search firm that focuses exclusively on IT, Heller is uniquely plugged into the CIO community. Her expertise in recognizing both superior leadership talent, and the components of a role as integral to a company -- yet as complicated -- as CIO, open a forum within the pages of THE CIO PARADOX. This sense of community Heller provides in the book exists as an invaluable tool for the entire executive suite.
Martha Heller is president of Heller Search Associates, an executive search firm that specializes in IT leadership positions. Prior to founding Heller Search, Martha was Managing Director of the IT Leadership Practice at ZRG Partners, a global executive search firm. Before establishing her career in executive search, Martha was Founder and Managing Director of CIO magazine's CIO Executive Council, a professional organization for CIOs. She continues to engage with CIO audiences through her monthly column in CIO magazine, as author of CIO.com's Movers & Shakers blog, and as author of You and Your CIO, a blog on CFO.com. Martha has presented on "the CIO career" at CIO events, the CIO Executive Summit, MIT's emerging technology conference, SIM, the United Nations Forum on Women and Technology, and numerous academic executive programs. Martha is also on the judging panel for CIO's prestigious CIO 100 award. Martha received her B.A. in English from Hamilton College and her M.A. in English from SUNY Stony Brook.