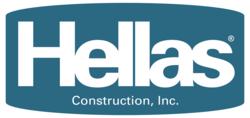 If you're not passionate about what you do...you'll never succeed.
AUSTIN, Texas (PRWEB) October 12, 2012
Hellas Construction, Inc. has grown by 30% year-over-year for almost a decade. To continue the trend of aggressive growth, Hellas recently recruited a new Vice President of Sales – a passionate leader with an impressive resume – Marc Belluomini.
Prior to joining Hellas Sports Construction, Marc led the sales organization within a global manufacturer and distributor of synthetic turf systems.
Joining Hellas enables Marc to go beyond manufacturing and distribution to include planning, design, construction, installation and maintenance of Hellas' world-class synthetic sports surfaces.
"I am proud to be part of such a strong, passionate and successful organization," said Marc regarding his new position with Hellas. "If you're not passionate about what you do and don't have a sense of integrity, you'll never succeed."
Marc is making an immediate impact, working closely with the Sales and Marketing arms of Hellas to align business development goals with campaign efforts for yet another record-breaking year.
Hellas Sports Construction specializes in the general construction of sports facilities and manufacturing synthetic sport surfaces for field sports, running tracks and tennis. Hellas controls all business processes from its home office in Austin, Texas, delivering quality athletic surfacing products directly to customers, including marketing, sales, quality control and project management. For more information visit: http://www.hellasconstruction.com.