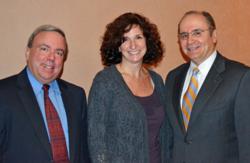 "I'm honored to have been selected by this esteemed organization to share my knowledge among an impressive group of financial professionals and peers"
Westchester, N.Y. (PRWEB) October 12, 2012
The Financial Planning Association (FPA) of the Greater Hudson Valley welcomed leading White Plains-based elder law attorney and Chair of the New York State Bar Association (NYSBA) Elder Law Section, Anthony J. Enea, Esq. as a key speaker for its chapter dinner. The high-profile event, held on Tuesday, October 9 at Sam's of Gedney Way, targeted the region's top financial professionals. Enea addressed the ins and outs of elder law planning, Medicaid eligibility, asset protection planning and estate planning.
Anthony Enea is a managing partner at the firm of Enea, Scanlan & Sirignano, LLP in White Plains and Somers, N.Y. His firm provides counsel to individuals and families on the effective planning for long term care, asset protection planning, Medicaid Home Care and Nursing Home applications, special needs planning and estate planning. Enea has practiced elder law for approximately 25 years and is recognized in his industry as a leading authority in the protection of senior's rights. He has received the designation as a "Super Lawyer" and "Best Lawyer" for numerous consecutive years.
Attendees of the FPA event were treated to an in-depth presentation covering a broad range of elder care topics including Medicaid basics, eligibility, the use of irrevocable trusts; strategies for protecting one's assets when nursing home care is needed; long-term care considerations; and other sensitive and challenging issues.
"I'm honored to have been selected by this esteemed organization to share my knowledge among an impressive group of financial professionals and peers," said Enea. "The Greater Hudson Valley chapter of the FPA has done an invaluable job of advising both its members and consumers throughout the region. Their support plays an important role in the ongoing success of our local industry experts."
FPA of the Greater Hudson Valley provides educational and networking opportunities that advocate on behalf of the financial planning profession. FPA members include accountants, attorneys, bankers, charitable giving specialists, insurance agents, stockbrokers, money managers, financial planners, investment consultants, broker-dealer and corporate executives, and others who champion the financial planning process. FPA of the Greater Hudson Valley is a premier resource for connecting members of the general public with elite financial professionals, as well as a tool for its members to share best practices for the betterment of client services and the financial industry landscape.
Enea, Scanlan & Sirignano, LLP is located at 245 Main Street in White Plains, N.Y. Please visit http://www.esslawfirm.com or call 914-948-1500 for more information. To learn more about FPA of the Greater Hudson Valley, visit http://www.fpanet.org/Chapters/GreaterHudsonValley or call 877-817-8400.
About Anthony J. Enea, Esq.
Anthony J. Enea, Esq., is a Managing Partner with Enea, Scanlan & Sirignano, LLP, and Chair of the Elder Law Section of the New York State Bar Association. He has spent the past three decades protecting the rights of seniors and the disabled. Mr. Enea practices exclusively in elder law, Medicaid planning and applications, wills, trusts and estates, and guardianships and estate litigation. He has been named as one of Westchester County's Top 25 Super Lawyers since 2007 by a peer-reviewed independent study. He is a member of the Council of Advanced Practitioners of the National Academy of Elder Law Attorneys and is on the Guardianship Advisory Committee of the Office of Court Administration for the State of New York.