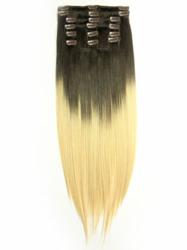 (PRWEB UK) 15 October 2012
Hairtrade.com, the UK's leading retailer of hair extensions, clip in hair extensions, hair care and beauty products has announced that its I&K Gold Ombre Hair extensions have been the best selling product throughout the summer, and as the trend is set to stay throughout Autumn/Winter 2012, the sellout product is back.
The ombre collection consists of two types – quick length pieces for one piece of ombre or dip dye colour, and a full head set consisting of 10 individual pieces enough for a full head of extensions. Both are available in a range of colours from natural brunettes to blonde, as well as a host of vibrant colours such as pink, lilac and turquoise.
Keven Kou, managing director of I&K International Limited said: "The demand for dip dye and ombre hair extensions was outstanding throughout the summer, mainly due to festival season and many celebrities wearing the trend such as Jessie J and Lauren Conrad."
He continued, "The original full head dip dye extensions have proved extremely popular and the full headsets have sold out on numerous occasions now. The coloured dip dye quick length pieces are also selling fast, especially the pinks for a pop of colour."
For autumn, the hues are more subtle, with brunettes and blonde tones being the most popular such as rich, chocolate brown roots, through to pale blondes on the tips with a very gradual transition between the two colours.
Priced at only £19.99 for one piece, and £69.99 for a full head set, the I&K ombre and dip dye extensions are 100% human hair so they can be cut, straightened, curled and styled just like natural hair.
As the extensions are clip-in, they are a fantastic alternative to dying and bleaching hair, which can cause permanent damage and is sometimes difficult to reverse.
With the quick length dip dye pieces, one piece adds a fabulous splash of colour, whilst two or more pieces give a full head of dip dye hair depending on the thickness of each customer's natural hair. Meanwhile, the full headsets of ombre hair extensions create the best possible length and volume in natural blonde and brunette hues for the perfect ombre hair.
About I&K International Limited:
Established in 2005, I&K International Limited is now one of the leading distributors of online hair care and beauty products across the UK and Europe. Hairtrade provides a wide range of hair extensions (http://www.hairtrade.com/ ), hair care products and hair electrical brands.
Hairtrade provide a wide range of 100% human hair extensions mainly, human hair weaves, I&K clip in Hair Extensions and pre-bonded hair and European hair extensions. Among its top brands are I&K 100% Human Hair and Remy Hair, Top Model and Jessica Simpson hair. In addition to its 100% human hair extensions the company also provides synthetic hair extensions, wigs, hairpieces, hair extensions accessories and tools, as well as an extensive range of hair care products from brands such as Tigi, Loreal, Schwarzkopf, Goldwell, Matrix, Fudge, Keune, Sexy Hair and many more.