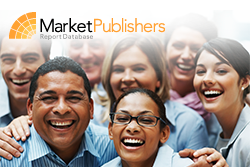 London, UK (PRWEB) October 12, 2012
The thin-film PV (TFPV) industry is beginning to recognize that high quality encapsulation is an area of strategic importance. The market value of organic and inorganic TFPV encapsulation is forecast to grow from its current value of about USD 370 million in 2012 to close to USD 1.2 billion in 2019, at a CAGR of about 18%.
The market value of flexible glass encapsulation in TFPV is expected to grow from nearly zero today to a value of over USD 60 million by 2015 and over USD 225 million by the end of the forecast period. Multilayer barrier films in TVPF encapsulation can grow from just over USD 30 million today to just over USD 275 million in 2019. The market value of conformally-coated barriers based on ALD can grow to over USD 135 million by 2019.
New study "Markets for Inorganic and Organic Thin-Film PV Encapsulation - 2012" elaborated by NanoMarkets has been recently published by Market Publishers Ltd.
Report Details:
Title: Markets for Inorganic and Organic Thin-Film PV Encapsulation – 2012
Published: October, 2012
Pages: 72
Price: US$ 2,495.00
http://marketpublishers.com/report/technologies_electronics/electronic_devices/markets-4-inorganic-n-organic-thin-film-pv-encapsulation-2012.html
The report examines which of the several emerging encapsulation technologies will be success in the PV market as well as which sectors of the market will be most receptive to them. It also looks at the product development and marketing strategies of the top players in the encapsulation materials sector, making attempt to indicate which firms are the companies to watch and which will be the possible winners and losers in the encapsulation materials universe. Additionally, the study is supplemented with granular, eight-year forecasts for the materials used for PV encapsulation, in both value and volume terms, broken out by product type and application.
Encapsulation product types covered include: rigid glass, flexible glass, multilayer thin films and laminates, conformal coatings, and metal foils.
Application sectors discussed are: thin-film silicon (TF-Si) PV, cadmium-telluride (CdTe) PV, copper-indium-gallium-selenide (CIGS) PV, dye-sensitized (solar) cell (DSC) PV, and organic PV (OPV).
Report Contents:
EXECUTIVE SUMMARY
E.1 Emerging Opportunities in PV Encapsulation
E.1.1 Advanced Encapsulation Systems Are Needed
E.1.2 Pricing Challenges for Advanced Encapsulation Materials
E.1.3 The Continuing Dominance of Glass Encapsulation for Rigid TFPV
E.1.4 Flexibility Is Emerging as a Key Enabler
E.2 Firms to Watch
E.2.1 Glass Firms – Rigid and Flexible
E.2.2 Dyad Firms
E.2.3 ALD Encapsulation Firms
E.3 Summary of Eight-Year Forecasts for PV Encapsulation
CHAPTER ONE: INTRODUCTION TO PV ENCAPSULATION TECHNOLOGIES
1.1 Background to This Report
1.1.1 New and Expanded Opportunities in PV Encapsulation
1.1.2 But Slow Growth in the PV Industry Will Limit Growth Rates in Encapsulation
1.1.3 Why Cost is So Important in PV
1.2 Objectives and Scope of This Report
1.3 Methodology of This Report
1.4 Plan of This Report
CHAPTER TWO: MARKETS FOR PV ENCAPSULATION TECHNOLOGIES – DESIGNS, MATERIALS, AND SUPPLIERS
2.1 Glass Technologies and PV Encapsulation
2.1.1 Strengths and Weaknesses of Conventional Glass TFPV Encapsulation Strategies
2.1.2 The Promise of Flexible Glass for Encapsulation
2.1.3 Major Suppliers of Glass Encapsulation Products
2.2 Multilayer Dyad Films and PV Encapsulation
2.2.1 Market Impact of Dyads – The Single Layer Goal and Reducing the Cost
2.2.2 Dyad Encapsulation Suppliers
2.3 Emerging Options for PV Encapsulation
2.3.1 The Future of ALD for High Performance PV Encapsulation
2.3.2 Key Players in ALD Encapsulation Technology
2.4 Key Points Made in This Chapter
CHAPTER THREE: EIGHT-YEAR FORECASTS FOR THIN-FILM AND ORGANIC PV ENCAPSULATION MATERIALS
3.1 Forecasting Methodology
3.1.1 Methodology
3.1.2 Scope of the Forecast
3.1.3 Data Sources
3.1.4 Forecasting Assumptions
3.1.5 Alternative Scenarios
3.2 Eight-Year Forecasts of TFPV Encapsulation Technologies by Application
3.2.1 Thin-Film Silicon PV
3.2.2 CdTe PV
3.2.3 CIGS PV
3.2.4 DSC
3.2.5 OPV
3.3 Eight-Year Forecasts of TFPV Encapsulation by Product Type
3.3.1 Rigid Glass and Polymer Films in TFPV Encapsulation
3.3.2 Flexible Glass
3.3.3 Multilayer Films
3.3.4 Conformal Coatings and ALD
3.4 Summaries of Eight-Year Forecasts of PV Encapsulation
Acronyms and Abbreviations Used in This Report
About the Author
LIST OF EXHIBITS
More new studies by the publisher can be found at NanoMarkets page.