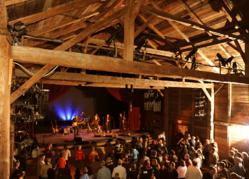 Vienna, Virginia (PRWEB) October 12, 2012
Lucy Kaplansky
Friday, October 26 at 8 pm
$22
Lucy Kaplansky
Chicago-born singer/songwriter Lucy Kaplansky brings her uniquely smooth vocals and insightful lyrics to The Barns at Wolf Trap. She returns to the intimate stage to promote her newest album, Reunion, which was released in September of 2012. Based in NYC, Kaplansky began her musical career in the late '70s as a freelancer in the city's folk-rock music scene. She quickly became a sought-after singing partner and session musician, being praised for her intrinsic ability to develop beautiful harmonies. This valuable talent led to numerous collaborations with renowned recording artists such as Suzanne Vega, Shawn Colvin, John Gorka and Nanci Griffith. Kaplansky has released seven albums, highlighting Ten Year Night (1999) as her most successful to date. She was also a co-founder and member of the folk group Cry, Cry, Cry, with whom she recorded one eponymous album in 1998 followed by an acclaimed national tour.
Video: Lucy Kaplansky – Ten Year Night
Ingrid Fliter
The Discovery Series
Friday, November 2 at 8 pm
$35
Ingrid Fliter
Celebrated pianist Ingrid Fliter makes her Discovery Series debut at The Barns at Wolf Trap with passionate and virtuosic interpretations of works by great masters of the Classical and Romantic eras. The stellar program will feature Haydn's Sonata Hob. XVI n. 34; Beethoven's Sonata Op. 57, popularly known as "Appassionata"; and various short pieces by Chopin, including a nocturne, six preludes, a mazurka, and a ballade.
Born and raised in Argentina, Fliter made her concert debut at the famed Teatro Colón at the age of 16. Subsequently, she moved to Europe to further her musical training. Fliter has won prizes in several international competitions such as the Cantu International Competition in Italy and the Frederic Chopin Competition in Poland. She made her U.S. concerto debut with the Atlanta Symphony in 2006 and has since performed with some of the most prominent orchestras in the country, including the National Symphony Orchestra, the Cleveland Orchestra, and the Los Angeles Philharmonic. Fliter is the 2006 recipient of the Gilmore Artist Award and an exclusive EMI recording artist.
Jonathan Edwards
Saturday, November 3 at 7:30 pm
$24
Jonathan Edwards
Singer/songwriter Jonathan Edwards returns for an evening filled with his beloved folk classics. Edwards's passionate yet humorous and approachable persona has captured the hearts of folk and Americana music followers for over four decades. His latest studio album, My Love Will Keep (2011), stays true to his signature style while integrating more varied tempos and personal themes into his lyrics. Edwards's solo career took off with the release of his self-titled debut album in 1971, which included the powerful protest single "Sunshine." He went on to explore the sounds of country and bluegrass in subsequent recording projects, and to collaborate with friends and famed musicians Emmylou Harris and Mary Chapin Carpenter. At present, Edwards has released 16 albums and continues to actively tour around the country, catering to his faithful fan base.
Video: Jonathan Edwards – Sometimes In The Morning
###
Tickets can be purchased by calling 1(877)WOLFTRAP; or online at http://www.wolftrap.org
For more information, call The Barns at Wolf Trap at (703) 938-2404 or our general information line at (703) 255-1900.