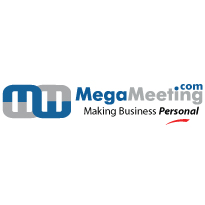 MegaMeeting.com is one of the most cost effective tools I have found for reducing costs for both our nonprofit organization and our membership to run our equine sport as efficiently as possible in today's economic climate
Los Angeles, CA (PRWEB) October 15, 2012
As with many business and nonprofit organizations, The National Reining Horse Association (NRHA) has felt the recent strains of todays' economic climate. Rather than throwing their hands up in the air they have taken advantage of MegaMeeting.com's web-based video conferencing technology to help cut costs and increase overall productivity.
The NRHA is a nonprofit association located in Oklahoma City, Oklahoma dedicated to promoting and encouraging the development of and public interest in the sport of reining. Though headquartered in Oklahoma City, they are an international organization with board members located across the world. With the cost of travel rising rapidly, flying staff into Oklahoma City over five times a year for board meetings and training seminars has become quite an expensive option. For this reason, the NRHA has recently turned to MegaMeeting.com's web-based video conferencing solutions to save money and lessen the stress travel has put on their organization.
"MegaMeeting.com is one of the most cost effective tools I have found for reducing costs for both our nonprofit organization and our membership to run our equine sport as efficiently as possible in today's economic climate." stated Dennis York, COO, National Reining Horse Association, "Our attendees can participate from home and not have to take time off from their regular jobs to attend both our training seminars and board meetings."
Ease of use and flexible built-in features, such as high quality video, VoIP audio, screen sharing and the ability to show PowerPoint presentations from within a meeting room are all reasons why the NRHA recently chose MegaMeeting.com as their video conferencing provider of choice.
When asked to provide details as to how MegaMeeting.com is currently being used throughout the organization, York went on to say, "We have five Board of Director meetings each year lasting two days each. International Board Members can now attend all of these meetings through MegaMeeting.com, where before it would have been very expensive and time consuming to travel." In addition to board meetings, NRHA is implementing the use of MegaMeeting.com within their training department to train Show Secretaries and Show Stewards for horse shows.
As for future use, NRHA hopes to see more usage of the MegaMeeting.com services throughout their committees. They feel members participate much better and are more interactive when they can see other participants face to face rather than through normal teleconferencing.
About MegaMeeting.com (http://www.MegaMeeting.com)
Founded in 2003, MegaMeeting.com is a leading provider of 100% browser-based web & video conferencing solutions complete with real time audio and video capabilities. MegaMeeting.com is a completely browser-based solution that works on all major operating systems – Windows, Mac & Linux as well as iPhones, iPads and Android enabled tablets or mobile devices. MegaMeeting.com provides universal access without the need to download, install or configure software. Their web conferencing products and services include powerful collaboration tools that accommodate robust video & web conferences, including advanced features such as desktop/application sharing, i.e. Word and Excel documents and PowerPoint presentations without the need to upload any files. MegaMeeting.com is ideal for multi-location web based meetings, virtual classrooms, employee trainings, product demonstrations, company orientation, customer support, product launches and much more.
For more information please visit http://www.megameeting.com or call (818) 783-4311.