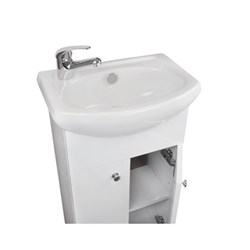 The Roma Vanity Units is now available at Bella Bathrooms and is great value for money.
(PRWEB UK) 14 October 2012
The Roma Vanity Unit is now available at Bella Bathrooms and is great value for money. The Roma Vanity unit comes pre-assembled with internal shelves and the basin included for a quick and easy installation. The solid and bold colour of the Roma Vanity unit helps achieve and clean and modern look within the bathroom. This vanity unit is ideal for any smaller bathroom where space is limited or redevelopment where you just need something affordable.
Along with the affordable Vanity Units, Bella Bathrooms also have a range of great Stainless Steel Bathroom Cabinets, made from moisture proof stainless steel and with minimalist handles to help prevent unwanted finger prints on the mirrored glass. When hung neatly on the wall the partition of the double doors is barely noticeable and the stainless steel finish gives these cabinets a well made feel. The mirrored doors on these cabinets also help great the illusions of the bathroom being larger than it actually by reflecting natural light which is perfect for smaller bathrooms. Some bathroom cabinets are even available with a range of features which may include, lighting, shaver sockets and built in clocks or radios, ensuring that it is built for the future. The new bathroom cabinets are perfect for creating more storage opportunities to hide all of the bits and bobs in the bathroom helping achieve a clutter free environment.
Bella Bathrooms has a great range of high quality affordable bathroom furniture from vanity units and bathroom cabinets to choose from, in a range of styles suitable for almost any type of bathroom.
Bella Bathrooms is constantly being updated so be sure to check back regularly for a wide range of new products and features constantly being added. Some of the latest editions include new and improved navigation to most pages designed to make the overall ordering process much, much easier and time consuming.
About Bella Bathrooms:
Bella Bathrooms is one of the finest UK online bathroom retailers based in the North-East of England and offer continuous great deals of bathroom refurbishments, shower, tower rail and radiator updates, bathroom furniture and various other key aspects at prices that are guaranteed to be unsurpassable. The latest updates continuously made have further improved the overall quality and they have set a high standard for things to come in the future.
Bella Bathrooms
Tel: 0844 8117 017
Available to contact from 9:00 – 5:30