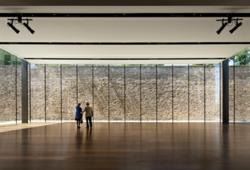 Philadelphia, PA (PRWEB) October 12, 2012
In a ceremony this week the Philadelphia Chapter of the American Institute of Architects awarded the Edgar N. Putman Event Pavilion at the James A. Michener Art Museum in Doylestown, PA, with its highest honor, a Gold Medal for Design Excellence.
Dedicated in April 2012, the Putman Event Pavilion is a 3,400 square foot addition used for public programs and private rental space. The museum's grounds, founded on the site of the Bucks County Prison, features three distinctive 23-foot fieldstone walls that were left behind after the prison was demolished, and today form the periphery of the Sculpture Garden. The design and technology for the addition were driven by the dual goals of preserving seamless views of the stone walls and providing the best thermal performance within the Pavilion.
KieranTimberlake, the architects for the project, produced a very thin, transparent wall, without joints, that provides the same protection against heat gain and loss as one would expect from a well-insulated masonry wall. Their solution employs large span structural insulated glass panels, which at 5'7" x 23' are among the largest self-supporting insulated glass units worldwide, and potentially the largest in the United States. Each insulated glass unit is made up of 5 plies of laminated glass that not only pushed the limits of glass fabrication but also demanded sophisticated construction tools including a highly specialized, custom designed suction device developed by the glass supplier, Roschmann Group, to lift the glass into place.
The distinguished jury of architects included Marlon Blackwell, FAIA, Marlon Blackwell Architect, Fayetteville, Arkansas, Rand Elliott, FAIA, Elliot + Associates, Oklahoma City, Oklahoma, Andrew Wells, AIA, Dake Wells Architecture, Springfield, Missouri, Reese Rowland, AIA, Polk Stanley Wilcox Architects, Little Rock, Arkansas, and Jennifer Herron, AIA, Herron-Horton Architects, Little Rock, Arkansas.
They commented on the "clarity of the idea and its restrained, yet obviously very difficult resolution that allows the space to be the star, focused on an incredible stone wall that would normally be ignored," and further offered that, "it would have been so easy to extend the glass walls to the courtyard wall, but it doesn't, which does more to celebrate its texture and materiality. A brilliant move."
In addition to KieranTimberlake, the team for the Edgar N. Putman Event Pavilion included CVM Engineers, Structural Engineer, Bruce Brooks & Associates, M/P/E/FP, Carroll Engineering Corporation, Civil Engineer, OLIN, Landscape Architect, Sean O'Connor Lighting, Inc., Lighting Designer, Metropolitan Acoustics, LLC, AV/Acoustics, Dewhurst MacFarlane, Curtainwall Consultant, and Adams-Bickel Associates, Inc., Construction Manager.