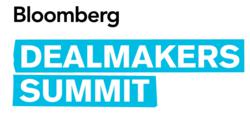 New York, NY (PRWEB) October 12, 2012
The third Bloomberg Dealmakers will convene the biggest players in private equity and mergers and acquisitions (M&A) to look at deal flow, leveraged buyouts (LBO) and initial public offering (IPO) activity, as the U.S. presidential election approaches. The Summit will be held Thursday, October 25, at The Pershing Square Signature Center in New York City.
Speakers will provide their perspective on the industry from a sector-specific view, exploring healthcare, technology and sports. The Summit will also look at the climate for distressed investing and explore what impact regulatory changes have had on investment opportunities.
The event will feature one-on-one interviews by Bloomberg journalists with industry leaders, including:

Thomas J. Barrack, Jr., Founder, Chairman, and CEO, Colony Capital, LLC
Donald J. Gogel, President and CEO, Clayton, Dubilier & Rice, LLC
Glenn Hutchins, Co-Founder and Managing Director, Silver Lake
"Private equity and M&A activity are 30 percent lower this year than projected, and many factors are impacting this dip," said Robert Bierman, head of Bloomberg LINK. "At this critical time, those attending the Summit will hear from key industry players, who will offer their insight on how to succeed in this environment and opportunities for investment."
Among other topics, speakers will address M&A's ties to the Euro crisis; the next emerging markets; and trends in regulation. Additionally, Steve Krouskos, Global and Americas Markets Leader, Transaction Advisory Services, Ernst & Young LLP, will present on the company's 7th Global Capital Confidence Barometer.
Key speakers include:

Steven A. Baronoff, Chairman of Global Mergers & Acquisitions, Bank of America Merrill Lynch
Timothy Coleman, Senior Managing Director and Head of the Restructuring & Reorganization Group, Blackstone
Henry Gosebruch, Managing Director, Mergers & Acquisitions, J.P. Morgan
Michael M. Green, Founder and CEO, Tenex Capital Management
Imran Khan, Managing Director, Head of Global Internet Investment Banking, Credit Suisse
Arthur Levitt, Jr., Senior Advisor, The Carlyle Group; Former Chairman, U.S. Securities and Exchange Commission (SEC)
Jim Millstein, Chairman and CEO, Millstein & Co., LLC; Former Chief Restructuring Officer, U.S. Department of the Treasury
Drago S. Rajkovic, Managing Director, Head of Technology Mergers & Acquisitions, J.P. Morgan
Wilbur L. Ross, Jr., Chairman and CEO, WL Ross & Co. LLC
John Studzinski, Senior Managing Director and Global Head, Blackstone Advisory Partners LP
Peter Tague, Vice Chairman and Co-Head, Global Mergers & Acquisitions, Citi
Christine A. Varney, Partner, Cravath, Swaine & Moore LLP
The conference is sponsored by Bank of America Merrill Lynch, Ernst & Young and Jack Daniel's.
For more information on the program and speakers, please visit: http://www.bloomberglink.com/deals
Follow us on Facebook, LinkedIn and Twitter (@BBGLINK). The hashtag for this event is #BBdeals.
For more information on Bloomberg, please visit http://www.bloomberg.com/about.
About Bloomberg LINK
Bringing the power of Bloomberg to the executive conference business, Bloomberg LINK produces invitation-only, in-person gatherings that combine world-class editorial programming with peer-to-peer networking amongst the who's who in influential communities. In this environment, participants engage in open discussions that lead to learning from each other's expertise and experience. For more information, please visit http://www.bloomberglink.com.
About Bloomberg
Bloomberg, the global business and financial information and news leader, gives influential decision makers a critical edge by connecting them to a dynamic network of information, people and ideas. The company's strength – delivering data, news and analytics through innovative technology, quickly and accurately – is at the core of the Bloomberg Professional service, which provides real time financial information to more than 310,000 subscribers globally. Bloomberg's enterprise solutions build on the company's core strength, leveraging technology to allow customers to access, integrate, distribute and manage data and information across organizations more efficiently and effectively. Through Bloomberg Law, Bloomberg Government, Bloomberg New Energy Finance and Bloomberg BNA, the company provides data, news and analytics to decision makers in industries beyond finance. And Bloomberg News, delivered through the Bloomberg Professional service, television, radio, mobile, the Internet and two magazines, Bloomberg Businessweek and Bloomberg Markets, covers the world with more than 2,300 news and multimedia professionals at 146 bureaus in 72 countries. Headquartered in New York, Bloomberg employs more than 15,000 people in 192 locations around the world.