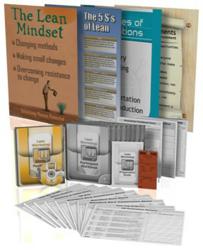 "After training with the Lean Manufacturing Workshop Solution, we were able to identify our bottlenecks that were costing us money. We are now a more lean facility and bringing in more profits."
Lake Oswego, OR (PRWEB) October 14, 2012
Implementing a lean manufacturing facility can be a challenge for most businesses, but LeanManufacturingSupplies.com has made it easier by supplying workshop tools that will help facilities create a "high value" for customers while employing as less work as possible. While adopting the philosophy of lean, a business needs to educate office and production workers all the way up to top level management about the processes of management programs such as 5S System, Kaizen, Kanban, Six-Sigma and more. One such tool to jump start a lean facility is the Lean MFG Workshop Solution Package. It is a complete training package that involves people, materials, information and machines. This package is a "hands-on" training tool and is perfect for all departments including final assembly, painting, packaging, sanding, profiling, fitting, warehousing, shipping and more. It is a five day workshop that is structured around one day of training and four days of implementation.
Creating a lean manufacturing and streamlining business processes will provide dramatic efficiency improvements and cost savings by experiencing reductions in process cycle times, increased throughput, elimination of waste and bottlenecks, and improved morale and safety among the employees. A training coordinator of a medium size manufacturing plant commented, "After training with the Lean Manufacturing Workshop Solution, we were able to identify our bottlenecks that were costing us money. We are now a more lean facility and bringing in more profits." Once a business learns the basic concept of lean manufacturing, continuous improvement is what will sustain a business's growth and ultimately become a leader among competitors. Conducting a training workshop in house requires trainers to have practical and rich information to guide employees through the process. This is accomplished by the facilitator guide that is included in the package.
Please visit http://www.leanmanufacturingsupplies.com/categories/Lean-Manufacturing-Tools/ or call toll-free (866)777-1360 to receive more information about lean manufacturing tools.