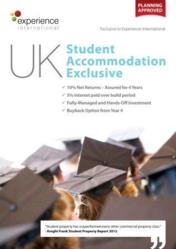 "Almost £800m was invested in student accommodation in the first 6 months 2012
which is over twice the £375m invested in 2011"
- CBRE, 2012
(PRWEB) October 14, 2012
Alternative property investments have been making the headlines with many investors searching for less traditional commercial and residential property options that offer higher yields and that generate regular monthly income.
Niche products such as student property investment in the UK have proven to be particularly popular, with CBRE announcing that nearly £800m was invested in student housing in H1 2012, over twice the amount invested in the same period last year.
Reported occupancy rates of 99% in the private sector combined with a lack of purpose built student accommodation makes student property investment an ideal option for those searching for a less traditional buy-to-let.
"There is no shortage of investor demand, but the market is hampered by a shortage of new high quality development opportunities." Jo Winchester, Head of Student Housing Advisory at CBRE, commented.
Following the successful launch of a number of UK student property investment projects, London property agent, Experience International, is pleased to announce the launch of a student property investment in the UK which already has planning permission in place.
"We're pleased to launch our new exclusive student property investment which has planning permission in place," Steven Worboys, MD of Experience International stated. "Investors can secure a passive income which is assured for 4 years," Worboys continued.
Investors can purchase one or more units which will be leased back to a well-established management company on a rolling agreement so that the building, in its entirety, can be let as student accommodation.
The new development, which is located in High Wycombe, is a short walk from Bucks University and will consist of 42 fully-managed, en-suite rooms which will be delivered fully furnished.
Exclusive to Experience International, the investment is income generating from day 1 with 5% interest paid on clients' deposited funds and, upon completion, will deliver 10% annual NET returns, assured for 4 years.
This new student property investment in the UK is exclusive to Experience International and is not available elsewhere. To take advantage of this opportunity, call 0207 321 5858 or email enquiries(at)experience-international(dot)co.uk.