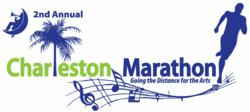 Charlotte, N.C. (PRWEB) October 12, 2012
The Charleston Marathon announced today that they will host a registration event at Presenting Sponsor Harris Teeter's Six Mile location in Mount Pleasant on Saturday, Oct. 27, 2012 from noon – 2 p.m.
The registration event will offer discounts to those who sign-up for the Charleston Marathon, Half or 5k race taking place on January 19, 2013.
"We will offer 10 percent off the registration fee that day, and another 5 percent off for Harris Teeter VIC card holders," said Liz Alford, Executive Director of the Charleston Marathon. "We will also hold a raffle for a free entry for anyone who signs up that day."
The highlight of the registration event will be an exciting performance by R.B. Stall High School's Steel Drum Band.
"The creation of the Steel Drum Program was made possible by a grant funded from proceeds of the 2011 Charleston Marathon. The grant gave us enough money to buy drums for five more students per class, which has an impact of 30 students per year," stated Sean McGrew, Stall's Director of World Percussion.
The Charleston Marathon was created to benefit the Youth Endowment for the Arts (YEA), a non-profit endowment that works to support equitable, quality fine arts programming for Charleston Area Children.
"We think the registration event at our Six Mile location is a great way to not only connect customers to the Charleston Marathon but also remind them of how proceeds from the Marathon are used to benefit local schools," said Catherine Reuhl Becker, communication manager serving Harris Teeter. "This is Harris Teeter's second year to be involved; proceeds raised as a result of the Charleston Marathon have funded important grants that ultimately benefit Charleston area youth, and we look forward to the continued success of the event in this regard."
About the Charleston Marathon:
Marathon events begin Friday, Jan. 18, 2013 at Burke Middle & High School and include a health and fitness expo, pre-race dinner and the Charleston Youth Marathon. The Charleston Youth Marathon was developed to promote student involvement and create a link between health and the arts. This modified marathon encourages students to run or walk 25 miles on their own, logging their progress in the months before the race. Participants will run the final 1.2 miles at the Charleston Youth Marathon.
Saturday, Jan. 19, 2013 the 5k will start in North Charleston at North Charleston High School. The half marathon and full marathon will begin at Burke Middle & High School and traverse the cities of Charleston and North Charleston, finishing at North Charleston High School. The routes will also contain venues along the route featuring student fine art performance groups. All races share a common finish line. There will be a post-race festival that will include live musical entertainment, food and drinks and student fine art exhibits and performances.
The Charleston Marathon events conclude Sunday, Jan. 20, 2013 with a 40- and 62-mile bike ride which starts and finishes in Mount Pleasant.
To register to run, donate, volunteer, or for more information, visit http://www.CharlestonMarathon.com
About the Charleston Marathon Registration Event at Harris Teeter:
Date: Saturday, Oct. 27, 2012
Where: Harris Teeter #385 – Six Mile Marketplace
2195 Tea Planter Ln.
Mt. Pleasant, S.C. 29466
Time: noon – 2 p.m.
About the Youth Endowment for the Arts (YEA)
The Youth Endowment for the Arts (YEA) mission is to provide equitable, quality cultural arts experiences to Charleston area children. For more information visit http://www.yeaendowment.org.
About Harris Teeter
Harris Teeter Inc., with headquarters in Matthews, N.C., is a wholly-owned subsidiary of Harris Teeter Supermarkets, Inc. (NYSE: HTSI). Harris Teeter is the 24th largest supermarket in the U.S. with 2011 sales of $4.29 billion. The regional grocery chain employs approximately 25,000 associates and operates stores in North Carolina, South Carolina, Virginia, Georgia, Tennessee, Maryland, Delaware, Florida and the District of Columbia.